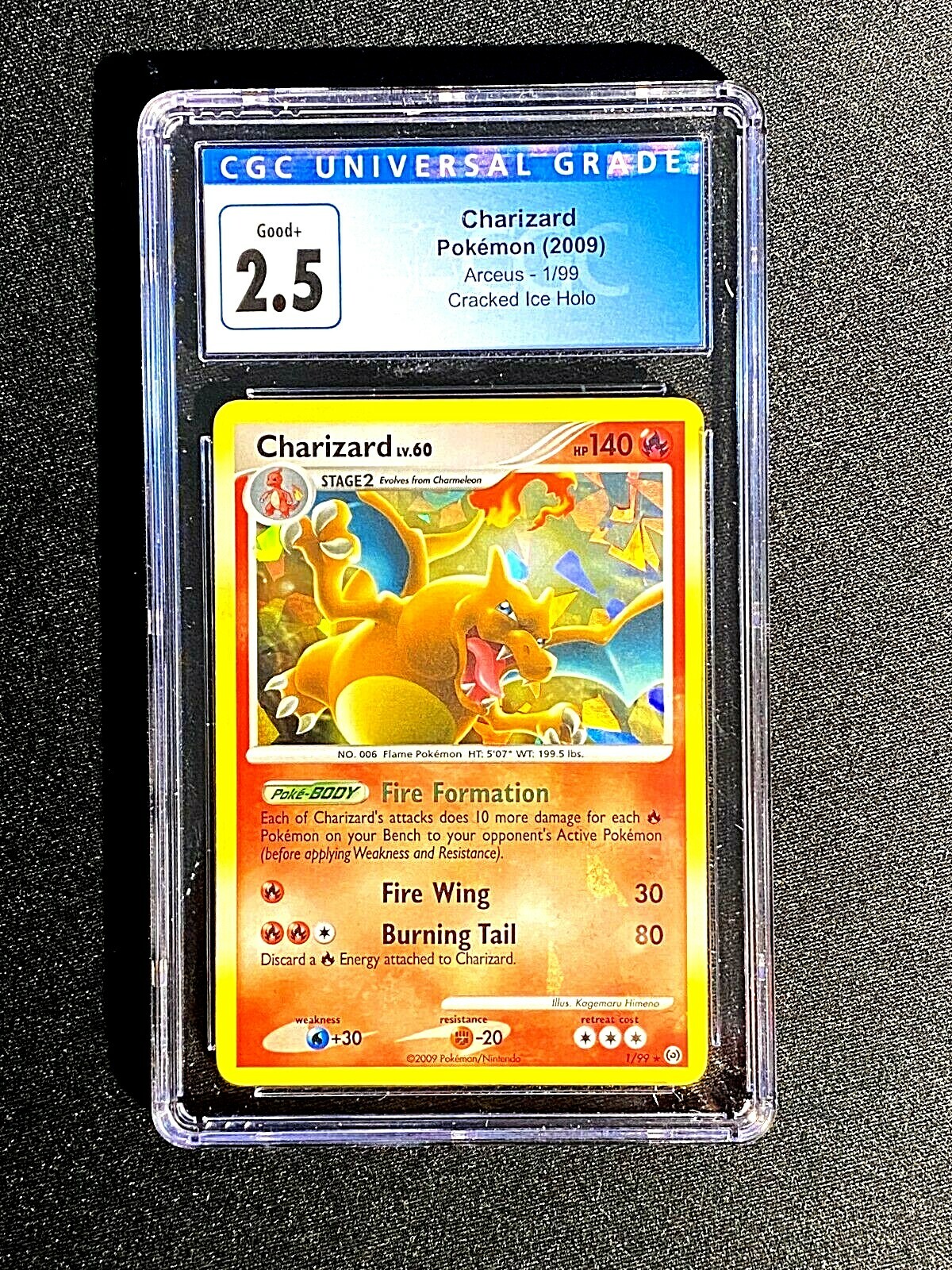 Price: 18.59 USD
Pokémon Card:
Charizard CRACKED ICE Holo 1/99 CGC 2.5 2009 Pokemon Platinum Arceus G2492
Charizard CRACKED ICE Holo 1/99 CGC 2.5 2009 Pokemon Platinum Arceus G2492

BEST PACKING ON EBAY GUARANTEED. WITH THAT SAID I HAVE BEEN TOLD I "OVER-DO-IT". But I feel this is a testament to how much respect and care I have for your item.  PLEASE, if you see an error in one of my listing send me a message, Thank you. ig=card.addiction Please subscribe if you are interested in a monthly news letter. Items with multiple cards of the same card for sale are mailed out in random order, but are all within the same condition as stated in "Card Condition" and or Item Description. SLABS MAY HAVE SOME SCRATCHES AND OR OTHER IMPERFECTIONS. IF YOU NEED A PRISTINE SLAB PLEASE JUST SHOP ELSEWHERE. INTERNATIONAL SHIPPING=ONLY THROUGH EBAY SHIPPING PLATFORM ! Add multiple cards to your shopping cart and or just request combined shipping at any time; 50 cents each additional single raw card and or 1 dollar each additional graded card. 10 dollars maximum shipping no matter how many cards you buy. Highest shipping cost plus .50 or $1.00 to a max of $10.00 SHIPPING, for trading cards only AND OR other small items, like jewlery, which CAN be combined. Please inquire FIRST, about combined shipping, if buying trading cards AND other items from my store. JUST PURCHASE I WILL REFUND DIFFERENCE OF SHIPPING ON MULTIPLE PURCHACES AFTER CHECK-OUT… PLEASE give me time to respond and provide your refund of the shipping difference and to respond to messages. If you have any questions what-so-ever please ask BEFORE you bid, not after. I OFFER NO GUARANTEES ON ANY RAW CARDS EXCEPT THAT YOU WILL GET THE EXACT CARD IN THE PICTURE, except when there are multiples of a card for sale. No shipping over the weekends and holidays. Payments made Friday's after 9:00 am will be shipped on Mondays, as long as the post office is open.=#'s= at end of item description are for cataloging purposes only, cross-referencing.   I highly suggest LOW FEEDBACKERS to contact me prior to purchasing or be at risk of having your order canceled and being blocked.