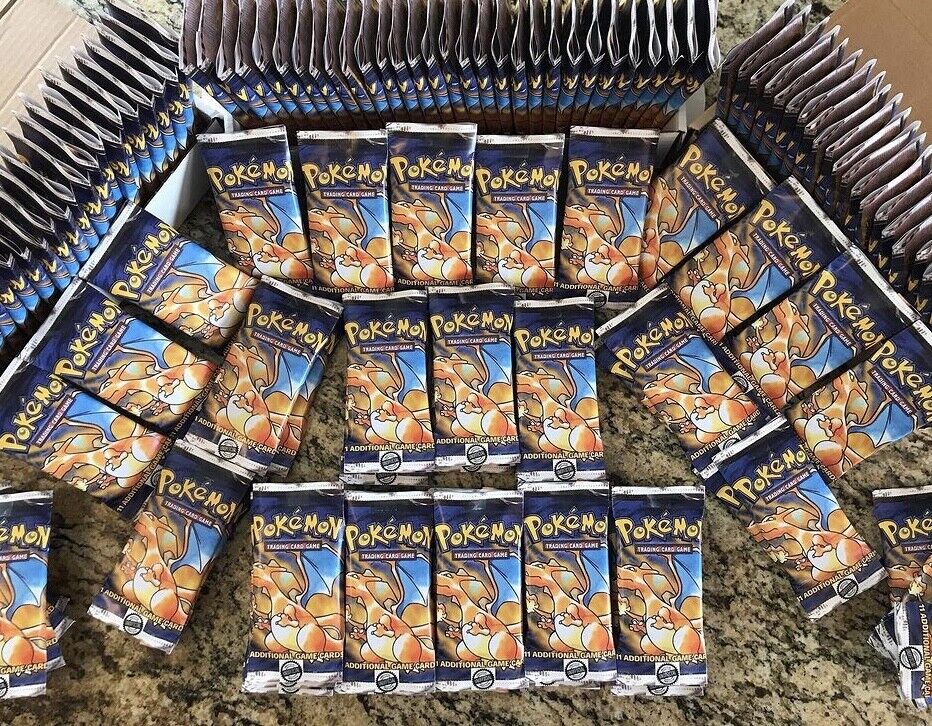 Price: 39.99 USD
Pokémon Card:
CHARIZARD GUARANTEED 30 Pokemon Card TCG Lot / ULTRA RARES /CGC & PSA/ AUTHENIC
Welcome!  99.9% of your questions can be answered by reading through the listing. As we have been quite busy, please take some time to look it over, including the Q&A, before sending us a message. Please check out our new 2-pack bonuses! Thank you for all your support in 2020, 2021, and going into 2022!

EBAY'S #1 Pokemon Card Lot

From One of the
LARGEST PRIVATE POKEMON COLLECTIONSin the WORLD!!

We are SELLING OUR ENTIRE INVENTORY in 30-card packs!
RARES, HOLOS, REV HOLOS, ULTRA RARES, GX, V, EX, BREAKS, MODERN, PROMOS

Pack Contents

Each purchase is for ONE (1) pack. Each pack contains 30 cards. Pokemon Cards are 100% authentic GUARANTEED. EVERY Card is Near Mint or Mint and the packaging is custom. Please kindly note that the packaging is not original and are our packs are not being advertised as sealed booster packs; they are custom paper wrappers meant to give collectors the nostalgic feel of being a kid back. Every pack is guaranteed to include the following 30 cards!

+ 8 Rare Holos /Rare Reverse Holos /Black Star Promo Holos

+ 8 Rare Non holo /Rare Reverse Holo
+ 1 Ultra Rare (V,GX,EX,Mega,Vmax)

+ 12 Common/uncommon
+1 CHARIZARD!!!!

BONUS  GRADED CARDS: WHILE SUPPLIES LAST!!
(starts 1/14/2022 w/limited supply of 200 in stock)

-For Every 2 packs purchased, you will get a  CGC, PSA, or BGS slabbed Pokemon card for FREE. Our graded collection consists of vintage, modern, and foreign Pokemon Cards!! In our opinion, THESE are the only 3 Grading authenticators that matter in Pokemon and all of them have been around for dozens of years grading trading cards, comics, currency, and more. 
**We never grade with lower standard companies such as BGGS, GMA, WCG, etc. **
Company Stats as of January 2021
+ All packages are shipped 1st Class Shipping or Priority Mail w/tracking through USPS

+ We accept all returns up until shipping has been purchased. We kindly ask you to be mindful of these facts 🙂
+ In a rare case that a package is lost in transit, we will privately ensure/refund all packages up until "marked as delivered".

+ Ebay rated us a "Top Seller" every month in the 2020, 2021, and in 2022 we are a "Top Seller" again!!
+ We have a 0.00% Late shipment rate!! (We ship everything on time)
+ We have a 0.00% Transaction defect rate!! (Our product is pristine, accurate, well packaged, and authentic)

Q & A
**Please read these over before sending us a message. Thank you!!**

Q: Can you pick a pick a specific card for me and make my pack custom?
A: For fairness to all customers we do not take custom orders. All packs have been premade, packaged, and sealed and we do not take custom requests.
Q: What Charizard will I get?
A: We have over 3000 Charizards spanning the history of the Pokemon trading card game. Every pack will contain (1) random Charizard from any era of Pokemon. Please note that we do not take custom requests and polity block users who request specific cards.
Q – If I order 4 lots, will I get 2 Graded cards?
A – Yes. For every two lots you purchase, you are entitled to a graded card. So 4 lots = 2 graded cards. 6 lots = 3 graded cards. etc.

Q – Tell me more about Graded Cards.
A
– While we think all three companies (CGC, PSA, and BGS) are good and have similar grading standards, we tend to stick primarily with either CGC and PSA.  CGC is the new hottest up and coming grading company in the Pokemon market and grades are the toughest to get (CGC 9 or 9.5 is right on par with a PSA 10). CGC is rapidly growing in popularity because they return cards within only a few months so many big name collectors are switching over. PSA on the other hand is taking about 12 months to grade a single card that you send in. CGC's submitted graded population went from 0 to hundreds of thousands very quickly. In my opinion they are the future of Pokemon grading.  ALL are great companies and serious collectors are mainly grading with these BIG 3 BRANDS.

Q: Will I get duplicates?
A: We do our best to not include duplicates within each rarity. Packs were created in such a way to mitigate chances of having a duplicate. For example. all 8 non holo rares will be unique. All 8 holo/rev holo/promos will be different. etc.

Q: Do you sell vintage cards?
A: Every month we make custom vintage packs with only vintage cards. These single 30 card packs typically range from $200-$500 and sell out within 24 hours so please save our store if you'd like those. If you are looking for just vintage, please wait for these packs to come out. The packs in this listing might not be your best fit and we'd love to have you pick up one of our other packs.

Q: What's the difference in buying your pack from a pack at the store?
A:  Okay, we admit we're slightly biased but here are the facts of Pokemon cards that I've learned from 20 years as a collector. Your "Pull Rates" when buying pokemon packs are the following.

1 in about every 2 store bought packs will give you a single Non Holo Rare. That would be about 16 packs (or $64) of cards to get the 8 that I offer in just one pack.
1 in about every 6-7 store bought packs will produce a single Ultra Rare. That would be about $28 to get the same amount that I offer in just one pack
1 in about every 3 store bought packs you open will produce a single Holo Rare. That would take 24 packs (or about $100) of packs to get the 8 holo rares and I offer the same amount in just one pack.

Depending on the set, It could be one in every booster box or one in every 36 booster boxes that You'll get a Charizard. The price it takes to buy the number of packs to pull one, I believe on average to be anywhere from $50 – a few thousand dollars. Watch Youtubers like Leonhart chase the rainbow Charizard GX for the better part of a year.




Q: I'm new, any advice?

A: If you ever have questions as someone entering the hobby, I'm always happy to help, point you in the right direction, or just talk about Pokemon.  Here are some basics.

Protection of cards = penny sleeves, toploaders, ultra pro binders 12 pocket (side loading) binders.

Interested in grading your cards? Check out Ludkins, TCAGaming, and GradedGem. Yes, it's expensive.

Want a specific card? It's the grind. eat, breath, sleep, check ebay.
Have fun! People get so hyped up on "investments". In my opinion, just find what you enjoy, set some goals, open packs, find good deal and things will just naturally evolve. People who worry too much about whether the pack they bought last week and kept sealed is now worth more or less eventually get bogged down and lose sight of why we are all crazy enough to collect cardboard in the first place. In my experience, a good portion of those people either switch the mindset at some point or switch hobbies. Pokemon is fun; enjoy it for what it is.

Q: I want to flip and resell the cards in your pack, How much can I resell the contents for?
A: Please note that these packs/lots are already being sold second hand. At one time, we opened them from booster packs, stored them away, and now they are being sold second hand. We highly discourage people from playing a game of flipping with our product. We have 18x Rare hits in one pack! That's incredible in and of itself. However, we don't go through the thousands of packs we have made, putting price values on each individual card. We don't have time and frankly, we hope you are buying the packs to get the 18 rare "hits" and not to try and make a buck. If you are interested in flipping, we encourage you to play the riskier game of buying local collections.

Q: Can you give me a 1st Edition Charizard?
A: Please be respectful of our time. We don't advertise to sell this card which is worth 4,5, and 6 figures and it is not included in these packs. People asking for it to be included in their pack will be blocked.
Q: What era are the cards from?
A: Our collection ranges from Base Set all the way to Shining Fates (2021) and we have including cards from every single set ever printed. We have hundreds of thousands of cards in inventory but Due to scarcity in the Pokemon market and in our inventory, packs lean more towards modern eras. Packs have been premade, sealed, and are ready to ship.
Q: When will my item ship?
A: Our current handling time is ten days. Please allow for this extra time due to a disruption in our supply chain with our shipping supplies due to covid. If there is a Poke-emergency, please contact us. Please be mindful of USPS delays due to increased domestic shipping during the pandemic. Thanks for your patience!
Q: I believe you've made a mistake in my order
A: Please contact us immediately through message and we will make sure that you are taken care of. Everything we sell is Near Mint/Mint, authentic, and we do our best to not include duplicates. With the millions of cards we have dealt with, we have made honest mistakes. Your peace of mind, wallet, love of the hobby, and happiness are our top priority. Please consider leaving us 5 star feedback if we have met our side of the bargain.

Q: What do other's think of your product?

A: We have over 1000+ Positive ratings and 500+ positive written reviews on this product!