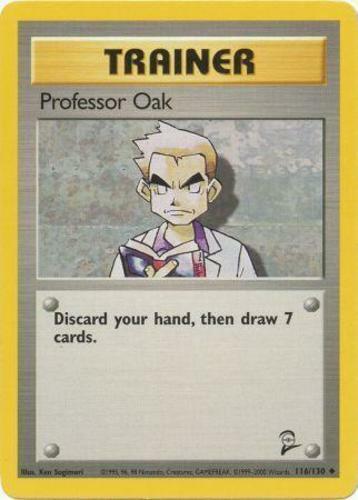 Price: 1.31 USD
Pokémon Card:
Heavily Played Pokemon Professor Oak – 116/130 – Uncommon – Unlimited Edition Ba
Hello, and Welcome to The Deck Box!
Today you are bidding on One
Professor Oak – 116/130 – Uncommon – Unlimited Edition from Base Set 2.
This card language is English and condition of this card is: Condition: Heavily Played.

(See Grading Scale below)
Please note: the image is a stock image, the card will likely look different than the one in the image, but it will be the same set, finish, and language card.
We accept Pay-Pal and eBay Managed Payments Only.
Please note, we will happily send additional pictures of cards valued over 50.00 USD, but cannot feasibly send pics for cards under that value.  We thank you for your understanding regarding this matter.

We gladly ship internationally!
Shipping is .99 for Plain White Envelope or 3.99 for tracked Bubble Mailer in the U.S.
International shipping is 1.99 for Plain White Envelope or 14.99 for standard First Class mail.
Also Note:  We are no longer able to send items to Italy or Brazil, due to numerous problems with customs with those countries.  We apologize for any inconvenience this causes.
Payment is expected immediately upon winning.
Items will ship the next business day after payment is received.
We ship all cards in sleeves, which are then placed in top loaders and shipped in either PWE or bubble mailer, depending on your shipping selection.
We offer FREE Combined Shipping, so Shipping for any additional eligible items purchased at the same time is FREE!!
North Carolina Residents, please note that Sales Tax of 6.75% will be added to your order during Checkout.
Please feel free to ask questions or request more information.
Grading Scale:
NM – Near Mint:  Card is very close to Mint condition with only a minor flaw (such as a very small nick or scratch) that prevents it from being Mint.
LP – Lightly Played:  One step below NM. Card might have some minor play wear or a few nicks that prevent it from being NM.
MP – Moderately Played:  Card has seen some play outside of a sleeve. Might have some nicks, scratches, a small creased corner, and/or minor edge whitening. No major damage, but probably would need a sleeve.
HP – Heavily Played:  Card has definitely seen play outside of a sleeve. Might have heavy edge whitening and/or several nicks and scratches. Might have a small bend or a creased corner, but no major creases and no rips or tears. 
Damaged: Card is in rough shape!  Card may have all sorts of different wear, and may not be sleeve playable.  rips, tears, water damage, it is all possible on a Damaged card.  We recommend asking for pictures of cards in this condition (if pics are not in the listing).

Happy Bidding!!