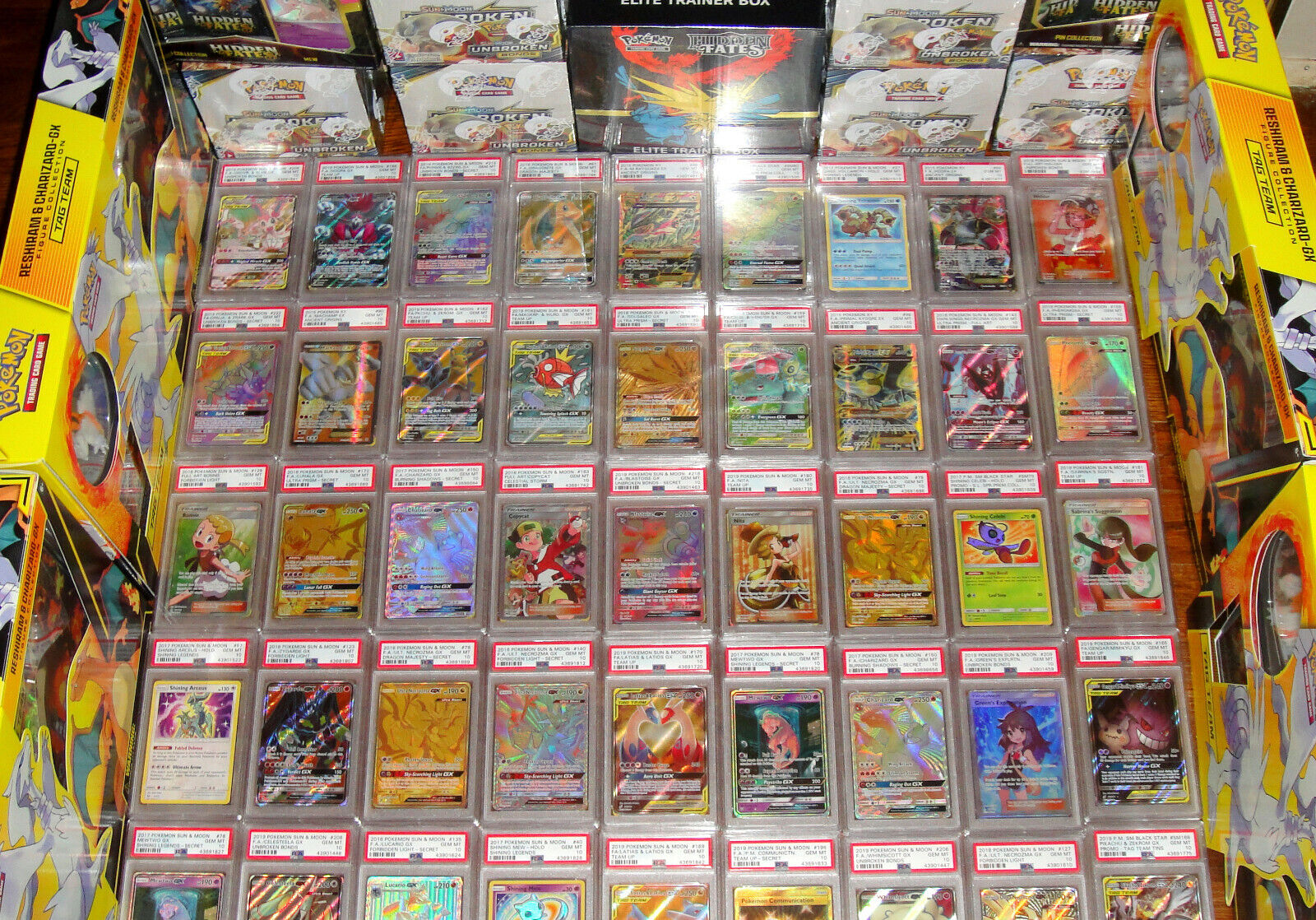 Price: 199.99 USD
Pokémon Card:
Pokemon 25 Card Lot : GUARANTEED Textured PSA 10 EX GX V Vmax Ultra Secret Rare
1) All cards are pack fresh and in English.


2) No duplicates guaranteed!


3) Cards are selected at random from our stock which is represented by the pictures. We have thousands of cards also not able to be pictured so you may or may not receive a specific card shown. You will not receive every card pictured. You will not receive boxes in the background, they are used to show the variety of sets included.




4) One booster pack is included per lot for up to 3 lots only. If you purchase more than 3 lots, an additional 10 cards will replace a booster pack.
1) Buy with confidence – Check our feedback!




2) If you have any questions about what you will receive, please contact beforehand and we'll be happy to help!



Shipping & Handling –

Free! Tracking included!! Your cards will be protected! All orders ship the same or next business day depending on time of purchase.



Returns –

Your satisfaction is guaranteed! Returns are always offered for 'item not as described' or for unforeseen circumstances. We always offer 100% money back guarantee. A partial refund may be issued if item/booster has been opened.



Frequently Asked Questions (Q & A) :
Q: What is a PSA graded card?
A: A PSA graded card is a card that has been graded by a professional third party grading company greatly boosting its value. By being professionally graded, you can purchase with confidence knowing the cards precise condition and other details.
Q: What sets may the PSA card be from?
A: Currently PSA cards may be ultra rares from the Black & White, XY, Sun & Moon and Sword & Shield eras.
Q: This lot guarantees only textured cards as the PSA card, which cards does that mean specifically?
A: By textured cards, your PSA card may only be a: Full Art (EX/GX/V/Trainer), Secret Rare (EX/GX/Vmax/Trainer/Stadium/Energy) or Shining Pokemon.
Q: Why are you only offering textured cards?
A: Textured cards are the highest valued cards, by offering only these select cards we want our customers to take comfort knowing they will most certainly receive the highest possible value in this lot.


Q: This value seems too good to be true for the price, what's the catch?
A: There is none! Everything is clearly & fully stated. However this can only be offered until our stock is depleted so quantities are limited.
Q: Will I receive a card that is pictured as my PSA card?
A: It is possible but not guaranteed. The pictures only portray a portion of our stock, not all of our stock is able to be pictured.
*By purchasing, you acknowledge and understand that you will receive a random lot of cards and that no specific card is guaranteed*