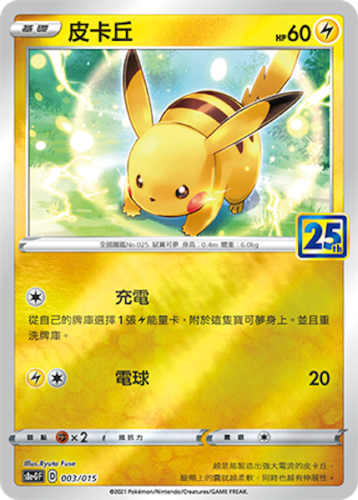 Price: 9.99 USD
Pokémon Card:
Pokemon 25 th Anniversary Chinese Pikachu Common Card from Golden Box s8a-003 NEW
Nintendo Official Pokemon Chinese 25 th Anniversary Products:
" Pokemon S8a 25 th Anniversary – Pikachu s8a 003 " – Chinese Version
Buyer will get the card as image programs, New and Holo Mint
Please note this pikachu card can be receive from the 25 th Golden Box just.
Condition: New
Language: Chinese
Category: Pokemon Card SWORD & & SHIELD
Edition: 25 th anniversary s8a
100% genuine pokemon items!
The cards will be delivered by signed up airpackage with a track number to make sure security shipment. Purchaser might examine the track number at order page once the bundle is delivered the number will be uploaded automobile.
We deliver cards to Worldwide.
Delivery time to worldwide will be within 2-3 weeks (please overlook the system computed time, that's a lot longer appears like a joke, in China the airflights to EU and United States can be made sure so the shipment time is not so long).
Welcome call us to request for complete card list. and Welcome to inspect our other pokemon set booster boxes & & specific pokemon cards
.