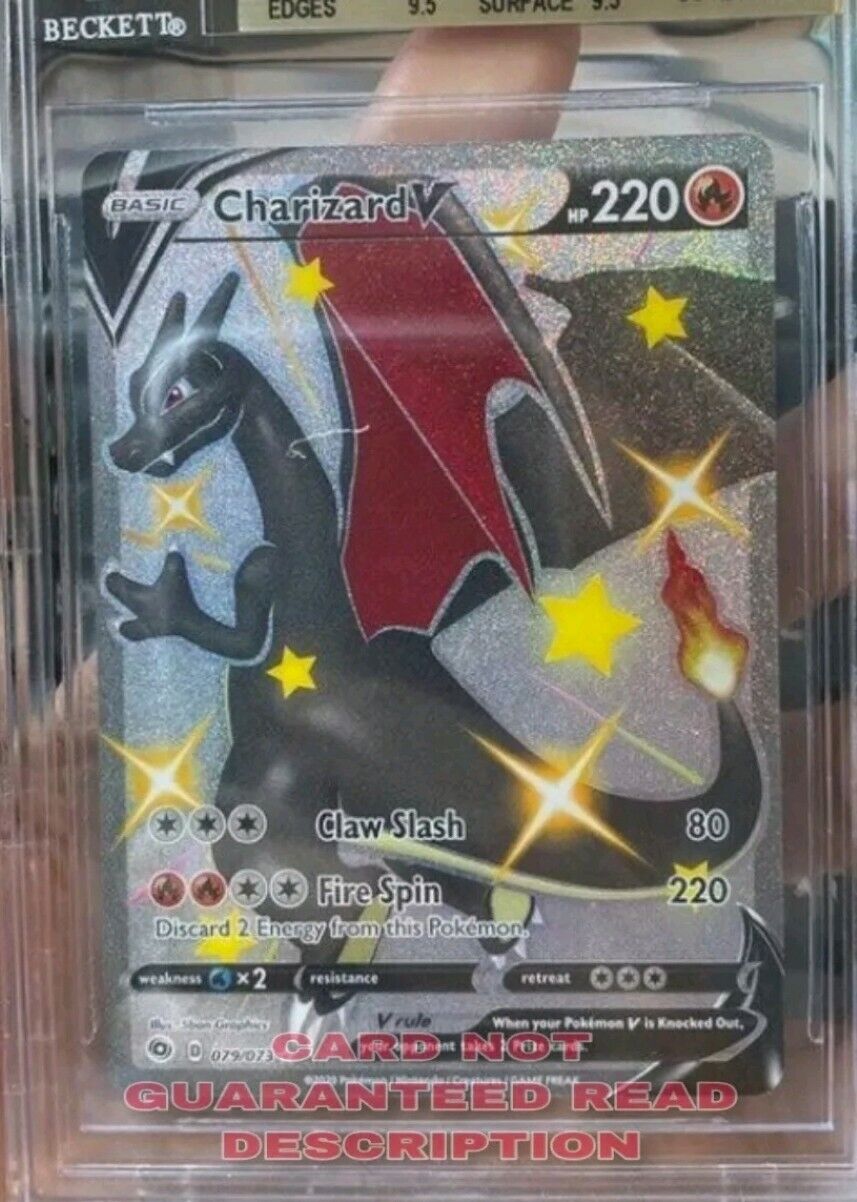 Price: 8.99 USD
Pokémon Card:
Pokemon Card Lot 10 OFFICIAL Cards Ultra Rare INCLUDED- GX EX VMAX🔥CHARIZARD🔥
Pokemon Card Lot 10 OFFICIAL Cards Ultra Rare INCLUDED- GX EX VMAX🔥CHARIZARD🔥.
CARDS IN PICTURES ARE NOT GUARANTEED OR NECESSARILY THE CARDS YOU WILL RECEIVE
PLEASE READ!!
FIRST OFF I WANT TO THANK EVERYONE WHO PURCHASES OR PURCHASED A PACK FROM ME!
YOU GUY ARE AWESOME! THE FEEDBACK IS AMAZING AND WHAT STARTED AS ME GETTING RID OF MY COLLECTION HAS TURNED INTO A MINI BUSINESS!!
I AM NOW STRIVING TO MAKE THIS BY FAR NO QUESTIONS AS THE BEST PACK YOU CAN PURCHASE ON EBAY!
I AM ACTIVITY LOOKING AND BUYING COLLECTIONS TO JUST MAKE THEM BETTER AND BETTER!!
REPEAT CUSTOMERS PLEASE FEEL FREE TO MESSAGE AND LET ME KNOW YOUR A REPEAT CUSTOMER AS I WANT TO REWARD LOYALTY!
All I ASK IS KEEP AN EYE BECAUSE THE DESCRIPTION MAY CHANGE TIME TO TIME TO KEEP UP WITH INVENTORY!
WE STARTED OFF WOTH FIRST 20 PACKS GET 1 EXTRA ULTRA RARE OR BETTER.. WHICH NOW IS A NORMAL AND A STAPLE FOR MY PACKS!
EACH PACK YOU WILL GET GUARANTEED 10 OFFICIAL POKÉMON CARDS.
1 CODE CARD
5 REGULAR CARDS
2 REVERSE HOLOS (or better)
1 HOLO (or better)
1 Vintage Card
1 ULTRA RARE (or
1:4 BABY SHINY
1:8 VMAX , FULL ART TRAINER OR BETTER
1:12 RAINBOW RARE , GOLD OR BETTER
1:40 CHARIZARD ULTRA RARE OR BETTER
LISTEN GUYS THIS IS GONNA BE FUN FOR ME JUST KNOWING THAT NO MATTER WHAT YOUR GETTING A DEAL AND A HALF! KEEP IN MIND YOUR WORSE CASE PACK IS ( 2 reverse holos , 1 holo , and 2V ) that is pretty amazing.
PLEASE GUYS LEAVE FEEDBACK
ALL I ASK IS IF YOU PULL A ZARD PLEASE DONT COMMENT THAT YOU HAVE PULLED ONE AS THEN THE ODDS OF ANOTHER WOULD BE A WHILE LATER. PLEASE FEEL FREE TO COMMENT "IF YOU GOT SOME GREAT PULLS OR ARE HAPPY LET US KNOW! BUT TRY TO NOT BE TO SPECIFIC" THIS IS JUST A REQUEST
With that being said I am in the middle of moving. So I can not do any returns all purchases are final. I will make sure all cards are shipped with care. All Ultra rare or better will be in thick Pokémon sleeves or card savers and packs will be wrapped between 2 pieces of card board to prevent bending or damage then put into a bubble mailer for added protection!
Thank you have fun!!!!