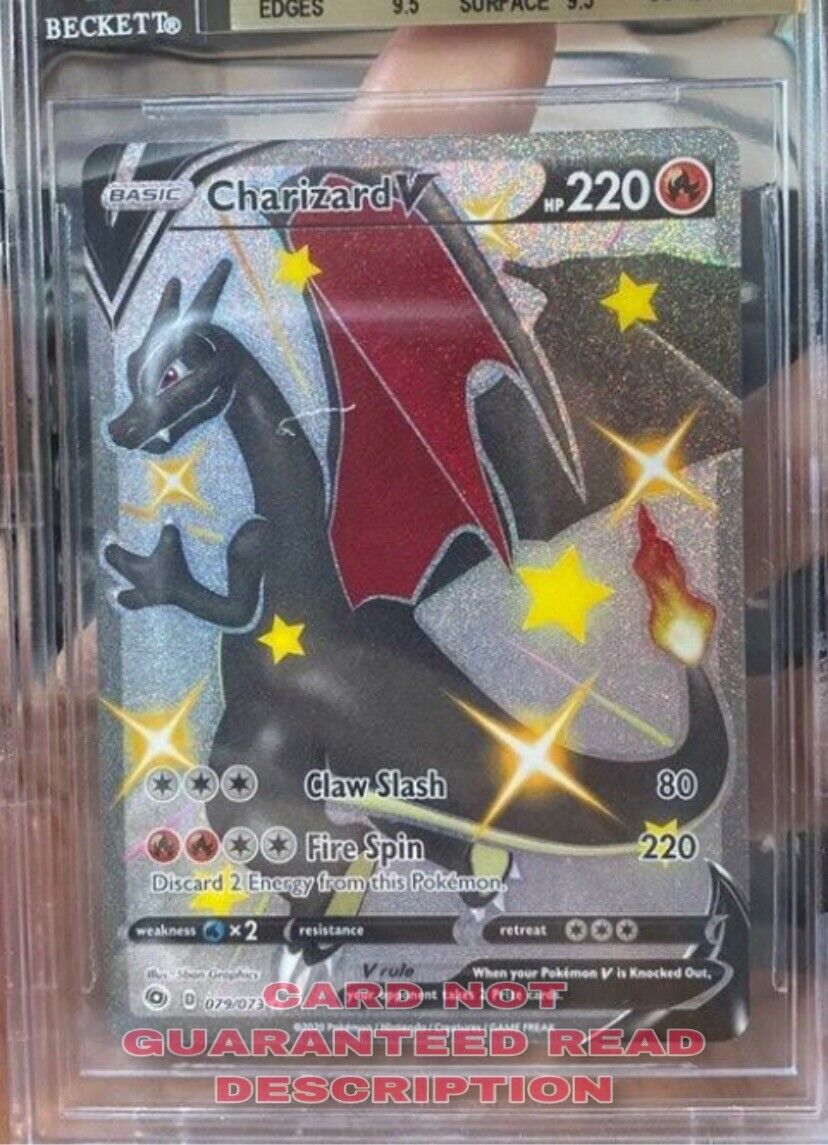 Price: 10.00 USD
Pokémon Card:
Pokemon Card Lot 10 OFFICIAL Cards Ultra Rare INCLUDED- GX EX VMAX🔥CHARIZARD🔥
Pokemon Card Lot 10 OFFICIAL Cards Ultra Rare INCLUDED- GX EX VMAX🔥CHARIZARD🔥.
CARDS IN PICTURES ARE NOT GUARANTEED OR NECESSARILY THE CARDS YOU WILL RECEIVE.
FIRST 20 PACKS GET 1 EXTRA ULTRA RARE OR BETTER IF YOU ARE READING THIS IT IT STILL VALID I WILL DELETE AFTER 1ST 20 ARE SOLD. YOU DONT HAVE DO DO ANYTHING YOU WILL GET THE EXTRA IF YOUR READING THIS 🎁🔥 WE HAVE PASSED 20 sales THANK YOU …. WE ARE STILL RUNNING THIS PROMOTION AS LONG AS ITS POSTED WHEN YOU PURCHASE YOU WILL RECEIVE THE EXTRA V OR BETTER
SINCE I HAVE GOT SUCH A GREAT RESPONSE I AM GOING TO LEAVE THE EXTRA ULTRA RARE OR BETTER EVEN THOUGH WE HAVE WELL PASSED 20 SOLD THANK YOU GUYS FOR THE GREAT RESPONSE AND FEED BACK!!
I WANT THIS TO BE THE BEST PACK YOU CAN BUY ON EBAY! Once my collection is gone I may just buy more because everyone seems to love it!
PLEASE READ DESCRIPTION CAREFUL AS THING MAY CHANGE TIME TO TIME TO REFLECT A NEW WAVE OF PACKS MADE!!
ALSO I THROW EXTRA IN JUST ABOUT EVERY PACK I ADD A EXTRA CARD
ALSO I AM THROWING IN MEGA PACKS RANDOMLY WHERE I WILL JUST MAKE IT AMAZING!!!
The feedback has been amazing!!! 🙏 thank you
They are my cards from my personal collection and will be put into pack accordingly.
LISTEN GUYS I AM MOVING AND I AM TRYING TO DOWNSIZE MY COLLECTION. I FIGURED THIS WAS THE BEST WAY TO DO AND HAVE SOME FUN SO HERE IS THE DEAL.
EACH PACK YOU WILL GET GUARANTEED 10 OFFICIAL POKÉMON CARDS.
1 CODE CARD
5 REGULAR CARDS
2 REVERSE HOLOS (or better)
1 HOLO
1 ULTRA RARE (OR BETTER)
1:4 BABY SHINY
1:8 VMAX , FULL ART TRAINER OR BETTER
1:12 RAINBOW RARE , GOLD OR BETTER
1:40 CHARIZARD ULTRA RARE OR BETTER
LISTEN GUYS THIS IS GONNA BE FUN FOR ME JUST KNOWING THAT NO MATTER WHAT YOUR GETTING A DEAL AND A HALF! KEEP IN MIND YOUR WORSE CASE PACK IS ( 2 reverse holos , 1 holo , and 1 V ) that is pretty amazing.
ALL I ASK IS IF YOU PULL A ZARD OR A BIG BANGER PLEASE DONT COMMENT THAT YOU HAVE PULLED IT AS THEN THE ODDS OF ANOTHER WOULD BE A WHILE LATER. PLEASE FEEL FREE TO COMMENT "IF YOU GOT SOME GREAT PULLS BUT TRY TO NOT BE TO SPECIFIC"
With that being said I am in the middle of moving. So I can not do any returns all purchases are final. I will make sure all cards are shipped with care. All cards will be in penny sleeves and the ultra rare and better will be in card savers.
I'm hoping you guys like this I have enough to keep this going for a while and we can change out the CHARIZARDS FOR OTHER BIG PRIZES LMK WHAT YOU WANT. WE COULD DO 1:40 gets a BIG PULL worth $$$ there is a bunch of different ways we can make it happen, Feel free to reach me on Twitter with any questions or ideas. @stock2menice
Thank you have fun!!!!