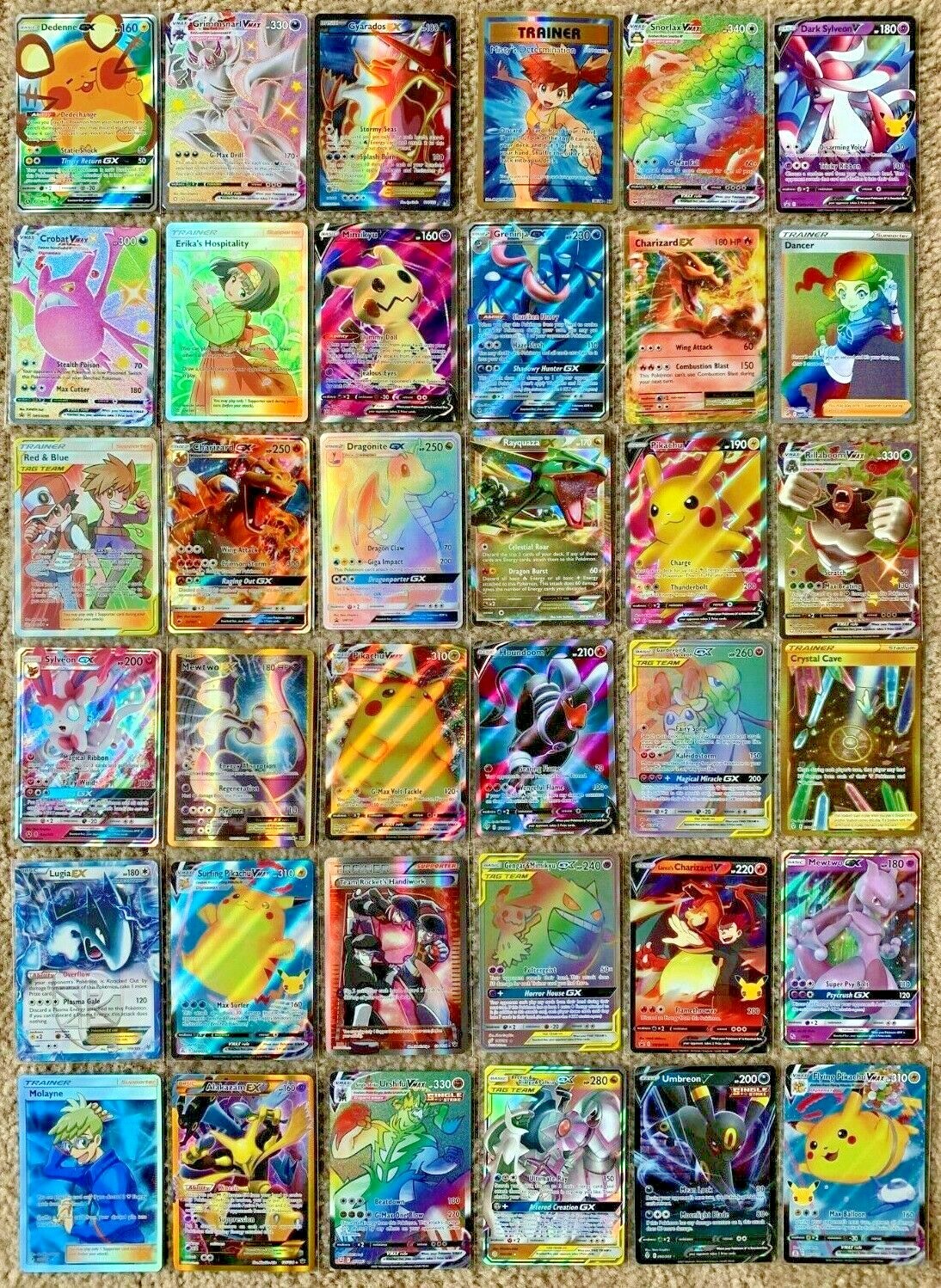 Price: 25.99 USD
Pokémon Card:
Pokemon Card Lot 10 OFFICIAL TCG Cards Ultra Rare Included EX/GX/V/VMAX/FA/RR
100% OFFICIAL / AUTHENTIC Pokemon TCG cards guaranteed to be in MINT condition. 
100% MONEY BACK GUARANTEE!
You Will Receive: 
1 (ONE) Ultra-Rare Card of Your Choice (EX, GX, V, VMAX, or RAINBOW RARE). 
Use the drop down menu on this listing to choose your Ultra-Rare Type or select "
DEALER'S CHOICE
" for any type listed above.
Plus…
1 (ONE) Holo Card (HOLO, REVERSE HOLO or BREAK CARD)
Plus…
8 (EIGHT) Common & Uncommon Cards
Plus…
Free Code Card for Pokémon TCG Online 
For multi-pack purchases use the "ADD TO CART" button to add multiple items to you cart. Your bulk-savings discount will be applied at check-out.
All cards are from the newest generations including Black & White, XY, Sun & Moon, and Sword & Shield.
 Each pack is professionally packaged and shipped with the utmost care.  
We offer BLAZING FAST SHIPPING with Tracking and all packages are shipped within 24 hours of payment.
About C&E Trading Cards: 
We are a father and son team that have been selling on eBay for over 15 years and take great pride in the products we offer. 
Our packs are filled with 100% AUTHENTIC Pokémon TCG cards and all cards are guaranteed to be in MINT condition. 
We are so confident that you will love your custom pack that we offer a 100% MONEY BACK GUARANTEE!
Disclaimer: These are not "Mystery Packs" or "Chance Listings".
Here are the rules for what eBay considers a chance listing and our clear explanation as to why this is NOT a chance listing:
1. Policy – Listings for mystery packs are not allowed on eBay.
This is not a mystery pack. These are individually packaged lots that contain 10 Pokemon cards from all sets and all types.
2. Policy – Listings where the seller doesn't specifically identify the contents, number, quality, or condition of the items for sale are not permitted to be listed on the site as they can mislead or confuse buyers about details of the listing.
This item consists of 10 Pokemon cards. The cards are issued between 2014 to current.
This item contains 10 cards.
This item contains cards in Near Mint or Mint condition.
There is no confusion or mystery as to what each pre-packaged lot contains. All cards are officially licensed Pokemon trading cards issued between 1999 and now. Each pack contains at least one card that is considered an "Ultra Rare" (this will either be an EX, GX, V, VMAX, RAINBOW RARE or FULL ART).
This is exactly what the buyer will receive. The photos show what Ultra Rare Pokemon cards look like, and will be the types of cards you will find in a pack. The photos do not show exactly what is included in the packs. Specific cards may or may not be included. 
3) I DIDN'T LIKE MY CARDS, NOW WHAT?
We offer easy and full refunds regardless of the reason. Simply reach out to us and we will arrange a return to be made. Our #1 goal is to ensure everyone is happy. We have kids too who love to collect and nothing is more devastating than if they are looking forward to something and just didn't like it for whatever reason. We are here to ensure everyone is happy at the end of the day.
4) WHO IS THIS LOT GOOD FOR?
This item is perfect for a young or novice collector or player, who is learning to expand their card collection while learning about the various types of cards in the Pokemon Trading Card Game.
5) WHO IS THIS LOT NOT GOOD FOR?
Anyone who is looking to gamble on getting incredibly valuable cards. You would be better off buying individual cards as buying packs of any trading cards is always a risk.
Ultra Rare Cards in our Collection
EX, Full Art, Secret Cards from our Collection : Black Kyurem EX BW62, Darkrai EX BW46, Mewtwo EX BW45, Rayquaza EX BW47, White Kyurem EX BW63, Xerneas EX XY07, Yveltal EX XY08, Darkrai EX 63/108 & Full Art 107/108, Entei EX 13/108 & Full Art 103/108, Groudon EX 54/108 & Full Art 106-108, Kryogre/EX 26-108 & Full Art 104-108, Pokemon Catcher Secret 111-108, Raikou-EX 38-108 & Full Art 104/108, Tornadus EX 90/108 & Full Art 108-108, Giratina-EX 92/124 & Full Art 124/124, Ho-Oh-Ex 22-124 & Full Art 119-124, Mew-EX 46/124, Full Art Mew EX 120/124, Rayquaza EX 85/124, Full Art 123/124, Registeel EX 82/124 & Full Art 122/124, Terrakion EX 71/124, Full Art 121/124, Black Kyurem EX 101/149 & Full Art 145/149, Celebi EX 9/149 & Full Art 141/149, Cheren Full Art 148/149, Cresselia EX 67/149 & Full Art 143/149, Golurk Secret 150/149, Keledo EX 49/149 & Full Art 142/149, Landorus EX 89/149 & Full Art 144/149, Rocky Helmet Secret 153/149, SKyla Full Art 149/149, White Kyurem EX 103/149 & Full ARt 146/149, Articuno EX 25/135 & Full Art 132/135, Black Kyurem EX 95/135, Coballion EX 93/135 & Full Art 133/135, Colress Full Art 135/135, Random Receiver Secret 138/135, Victini EX 18/135 & Full Art 131/135, White Kyurem EX 96/135, Zapdos EX 48/135, Deoxys EX 53/116 & Full Art 111/116, Garchomp Secret 120/116, Ghetis Full Art 115/116, Heatran EX 13/116 & Full Art 109/116, Latias EX 85/116 & Full Art 112/116, Latios EX 86/116 & Full Art 113/116, Professor Juniper 116/116, Thundrus EX 38/116 & Full Art 110/116, Tornadus EX 98/116 & Full Art 114/116, Dialga EX 65/101 & Full Art 99/101, Exeggcute Secret 102/101, Genesect EX 11/101 & Full Art 97/101, Iris Full Art 101/101, Jirachi EX 60/101 & Full ARt 98/101, Kyurem EX 30/101, Palkia EX 66/101 & Full Art 100/101, Virizion EX 9/101 & Full Art 96/101, Black Kyurem EX 100/113, Chandelure EX 77/113, Darkrai EX 88/113, Excadrill EX 82/113, Gold Reshiram & Zekrom Secret, Keledo EX 45/113, Kyurem EX 44/113, Lugia EX 102/113, Mewtwo EX 54/113, Reshiram EX 29/113, Victini EX 24/113, White Kyurem EX 101/113, Zekrom EX 52/113, Emolga Full Art RC23, Meloetta EX RC11 & Full Art RC25, Mew EX Full Art RC24, Reshiram Full Art RC22, Shaymin EX Full Art RC21, Blastoise EX 29/146 & Full Art 142/146, Emolga EX 46/146 & Full Art 143/146, M Blastoise 30/146, M Venesaur 2/146, Skarmory EX 80/146 & Full Art 145/146, Venesaur EX 1/146 & Full Art 141/146, Xerneas EX 96/146 & Full Art 146/146, Yveltal EX 79/146 & Full Art 144/146
C&E Trading Cards