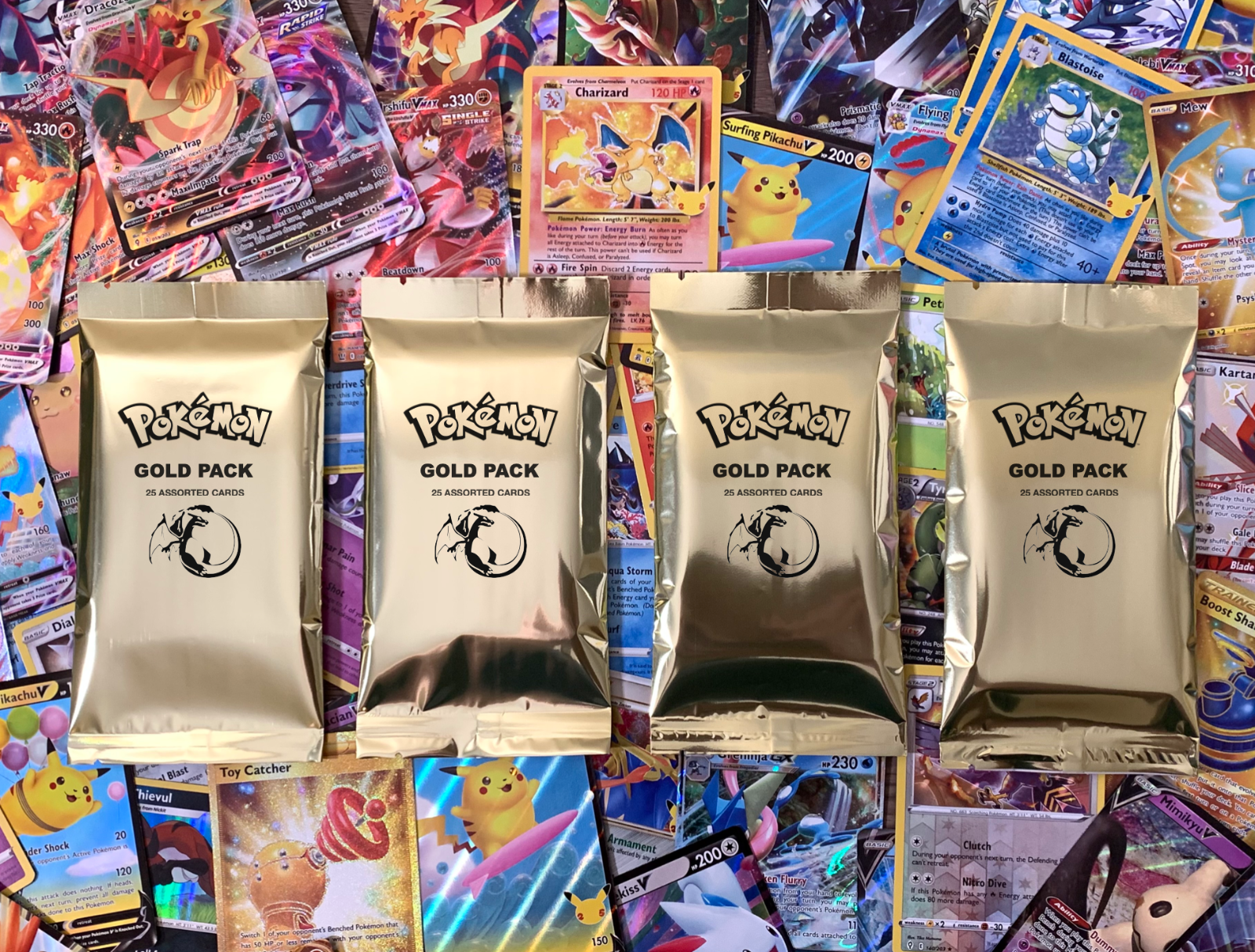 Price: 12.55 USD
Pokémon Card:
Pokemon GOLD PACK LOT of 25 CARDS TCG OFFICIAL ULTRA RARE + HOLOS Included
OVER 1500 PACKS SOLD ON MY OLD LISTING BEFORE IT WAS DELETED BY MISTAKE ! 
Pokemon GOLD PACK OFFICIAL LOT of 25 CARDS  ULTRA RARE + HOLOS Included 
(AUTHENTIC) Pokemon TCG Trading Card Game
YOU ARE GUARANTEED TO RECEIVE THIS IN EVERY PACK 
14  NON-HOLO Cards
                                     10  REVERSE HOLO / HOLO RARE CARDS
                                            ( V-EX-GX-VMAX or FULL ART TRAINER)
                                1  VALID ONLINE CODE FOR PTCGO
              NO ENERGY CARD  INCLUDED 
ALL THE CARDS ARE IN NEAR MINT / MINT CONDITION, PACK FRESH. 
EACH PACKS CONTAINS CARDS FROM THE FOLLOWING SETS:
XY – Flashfire – Furious Fists – Phantom Forces – Primal Clash – Roaring Skies – Ancient Origins – BREAKthrough – BREAKpoint – Fates Collide – Steam Siege 
Evolutions –  Sun & Moon – Guardians Rising – Burning Shadows – Crimson Invasion – Ultra Prism – Forbidden Light – Celestial Storm – Lost Thunder – Team Up 
Unbroken Bonds – Unified Minds – Cosmic Eclipse – Sword & Shields – Rebel Clash – Darkness Ablaze – Vivid Voltage – Battle Styles – Chilling Reign 
Evolving Skies – Fusion Strike – Celebrations 25th – Champion's Path – Shining Legends – Shining Fates. 
Note estimated shipping times are created by ebay, not me. Generally it will arrive around that time.
Orders outside of Canada and US take a while longer to arrive.
*It is the buyers responsibility to provide the right address.
It is also the buyers responsibility to pay for the right amount of shipping.
If you don't then your item may be canceled.
Disclaimer: These are not "Mystery Packs" or "Chance Listings".
Here are the rules for what eBay considers a chance listing and our clear explanation as to why this is NOT a chance listing:
1. Policy – Listings for mystery packs are not allowed on eBay.
This is not a mystery pack. These are individually packaged lots that contain 25 Pokemon cards from all sets and all types.
2. Policy – Listings where the seller doesn't specifically identify the contents, number, quality, or condition of the items for sale are not permitted to be listed on the site as they can mislead or confuse buyers about details of the listing.
This item consists of 25 Pokemon cards. The cards are issued between 1999 to current.
This item contains 25 cards.
This item contains cards in Near Mint or Mint condition.
There is no confusion or mystery as to what each pre-packaged lot contains. All cards are officially licensed Pokemon trading cards issued between 1999 and now. Each pack contains at least one card that is considered an "Ultra Rare" (this will either be an EX, GX, BREAK, V or VMAX or a Promo).
This is exactly what the buyer will receive. The photos show what Rare and Ultra Rare Pokemon cards look like, and will be the types of cards you will find in a pack. The photos do not show exactly what is included in the packs. Specific cards may or may not be included. 
3) I didn't like my cards now what?
We offer easy and full refunds regardless of the reason. Simply reach out to us and we will arrange a return to be made. Our #1 goal is to ensure everyone is happy. We have kids too who love to collect and nothing is more devastating than if they are looking forward to something and just didn't like it for whatever reason. We are here to ensure everyone is happy at the end of the day.
4) WHO IS THIS LOT GOOD FOR?
This item is perfect for a young or novice collector or player, who is learning to expand their card collection while learning about the various types of cards in the Pokemon Trading Card Game.
5) WHO IS THIS LOT NOT GOOD FOR?
Anyone who is looking to gamble on getting incredibly valuable cards. You would be better off buying individual cards as buying packs of any trading cards is always a risk.
Ultra Rare Cards in our Collection
EX, Full Art, Secret Cards from our Collection : Black Kyurem EX BW62, Darkrai EX BW46, Mewtwo EX BW45, Rayquaza EX BW47, White Kyurem EX BW63, Xerneas EX XY07, Yveltal EX XY08, Darkrai EX 63/108 & Full Art 107/108, Entei EX 13/108 & Full Art 103/108, Groudon EX 54/108 & Full Art 106-108, Kryogre/EX 26-108 & Full Art 104-108, Pokemon Catcher Secret 111-108, Raikou-EX 38-108 & Full Art 104/108, Tornadus EX 90/108 & Full Art 108-108, Giratina-EX 92/124 & Full Art 124/124, Ho-Oh-Ex 22-124 & Full Art 119-124, Mew-EX 46/124, Full Art Mew EX 120/124, Rayquaza EX 85/124, Full Art 123/124, Registeel EX 82/124 & Full Art 122/124, Terrakion EX 71/124, Full Art 121/124, Black Kyurem EX 101/149 & Full Art 145/149, Celebi EX 9/149 & Full Art 141/149, Cheren Full Art 148/149, Cresselia EX 67/149 & Full Art 143/149, Golurk Secret 150/149, Keledo EX 49/149 & Full Art 142/149, Landorus EX 89/149 & Full Art 144/149, Rocky Helmet Secret 153/149, SKyla Full Art 149/149, White Kyurem EX 103/149 & Full ARt 146/149, Articuno EX 25/135 & Full Art 132/135, Black Kyurem EX 95/135, Coballion EX 93/135 & Full Art 133/135, Colress Full Art 135/135, Random Receiver Secret 138/135, Victini EX 18/135 & Full Art 131/135, White Kyurem EX 96/135, Zapdos EX 48/135, Deoxys EX 53/116 & Full Art 111/116, Garchomp Secret 120/116, Ghetis Full Art 115/116, Heatran EX 13/116 & Full Art 109/116, Latias EX 85/116 & Full Art 112/116, Latios EX 86/116 & Full Art 113/116, Professor Juniper 116/116, Thundrus EX 38/116 & Full Art 110/116, Tornadus EX 98/116 & Full Art 114/116, Dialga EX 65/101 & Full Art 99/101, Exeggcute Secret 102/101, Genesect EX 11/101 & Full Art 97/101, Iris Full Art 101/101, Jirachi EX 60/101 & Full ARt 98/101, Kyurem EX 30/101, Palkia EX 66/101 & Full Art 100/101, Virizion EX 9/101 & Full Art 96/101, Black Kyurem EX 100/113, Chandelure EX 77/113, Darkrai EX 88/113, Excadrill EX 82/113, Gold Reshiram & Zekrom Secret, Keledo EX 45/113, Kyurem EX 44/113, Lugia EX 102/113, Mewtwo EX 54/113, Reshiram EX 29/113, Victini EX 24/113, White Kyurem EX 101/113, Zekrom EX 52/113, Emolga Full Art RC23, Meloetta EX RC11 & Full Art RC25, Mew EX Full Art RC24, Reshiram Full Art RC22, Shaymin EX Full Art RC21, Blastoise EX 29/146 & Full Art 142/146, Emolga EX 46/146 & Full Art 143/146, M Blastoise 30/146, M Venesaur 2/146, Skarmory EX 80/146 & Full Art 145/146, Venesaur EX 1/146 & Full Art 141/146, Xerneas EX 96/146 & Full Art 146/146, Yveltal EX 79/146 & Full Art 144/146