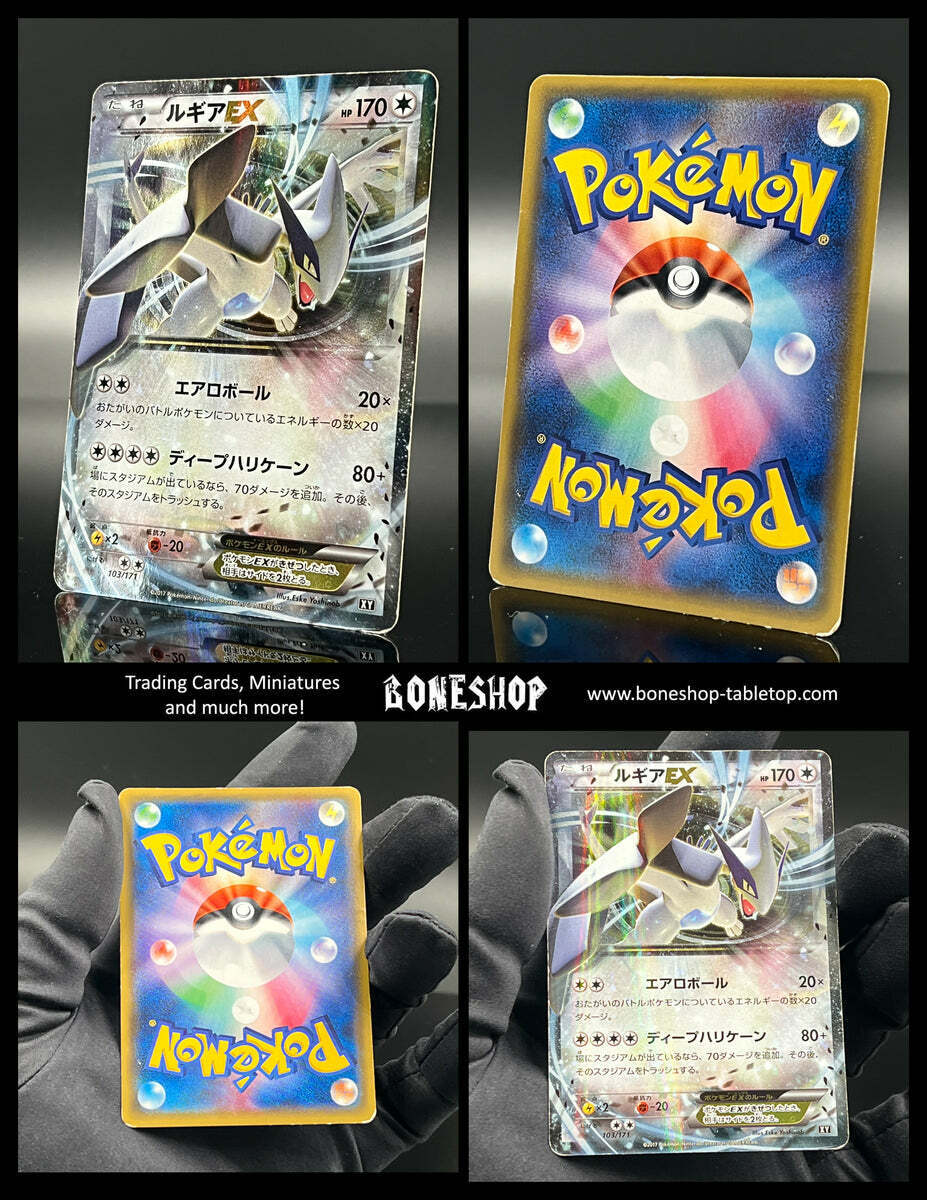 Price: 54.31 USD
Pokémon Card:
Pokemon "Lugia ex 'Holo | The Best of XY #103 | Japanese | boneshop
ENG:
The important things first. We put a lot of effort into our product photos so that you as a customer can get an accurate overview of the condition of your item. We therefore always recommend that you use the product photos to get your own impression of the condition of the item. If you have any detailed questions, we are of course there for you!
MNM (Mint – Near Mint): Item in Very Great condition. The front of the card is in perfect condition, there are no scratches and folds and the surface is perfectly clean. The back face of the card may have some minor defects (white spots).
EXGD (Excellent – Good): Item in good condition. The front/back may have minor scratches or damage.
LPL (Light Played – Played): Item does not fall within the previously mentioned MNM or EXGD states. The item may have more damage such as kinks/scratches or dots (spots).
Swirl/ Big Bubble/ Holo Bleed / 1 ED:
These are special features of a card. These do not affect the condition in a negative way, but aesthetically take the cards with such effects to another level. Read on for an explanation.
Swirl: A special feature in the item's holo-foil. In the visible area there is a "squiggle" as a pattern. Rarer but also possible: A double swirl.
Big Bubble: Similar to Swirl. Within the holo-foil is a very large glowing "sphere".
Holo-Bleed: The holo-foil shines "through" the entire card. This effect can vary greatly. Very rarely does the effect cause cards to radiate as much as if the holo-foil were equally strong everywhere.
1ED: 1st Edition determines the first print run of the respective card edition.

GER:
Das wichtigste zuerst. Wir geben uns bei unseren Produktfotos sehr viel Mühe, dass du als Kunde einen genauen Überblick über den Zustand deines Artikels erhalten kannst. Wir empfehlen daher immer, sich anhand der Produktfotos einen eigenen Eindruck vom Zustand des Artikels zu verschaffen. Bei Detailfragen sind wir bei Bedarf für dich da!


MNM (Mint – Near Mint): Artikel in sehr gutem Zustand. Die Vorderseite der Karte ist in einwandfreiem Zustand, es gibt keine Kratzer und Falten und die Oberfläche ist perfekt sauber. Die Rückseite der Karte kann einige kleinere Mängel aufweisen (weiße Flecken).

EXGD (Excellent – Good): Artikel in gutem Zustand. Die Vorder/ Rückseite weist evtl. kleinere Kratzer oder Beschädigungen auf.

LPL (Light Played – Played): Artikel fällt nicht in die zuvor erwähnten Zustände MNM oder EXGD. Der Artikel weist evtl. mehr Beschädigungen wie Knicke/ Kratzer oder Dots (Punkte auf).

Swirl/ Big Bubble/ Holo Bleed / 1 ED:

Hierbei handelt es sich um Besonderheiten einer Karte. Diese beeinflussen den Zustand nicht im negativen sondern heben die Karten mit solchen Effekten ästhetisch auf eine andere Ebene. Zur Erklärung lies gerne weiter.

Swirl: Eine Besonderheit in der Holo-Folie des Artikels. Im sichtbaren Bereich befindet sich ein "Kringel" als Muster. Seltener aber ebenfalls möglich: Ein Doppel-Swirl.

Big Bubble: Ähnlich wie Swirl. Innerhalb der Holo-Folie befindet sich eine sehr große leuchtende "Kugel".

Holo-Bleed: Die Holo-Folie scheint "durch" die gesamte Karte. Dieser Effekt kann sehr unterschiedlich stark auftreten. Sehr selten strahlen Karten durch den Effekt so stark als wäre die Holo-Folie überall gleich stark.

1ED: 1. Edition beschreibt die erste Druckauflage der jeweiligen Kartenedition. Bei Büchern würde man von der Erstauflage sprechen.

For International Buyers: Import taxes and charges are not included in the items prices. These charges are the buyer's responsibility. – Please before bidding or buying, check your country's customs office to determine what these additional costs – We don't mark items values below value or mark items as "gifts"