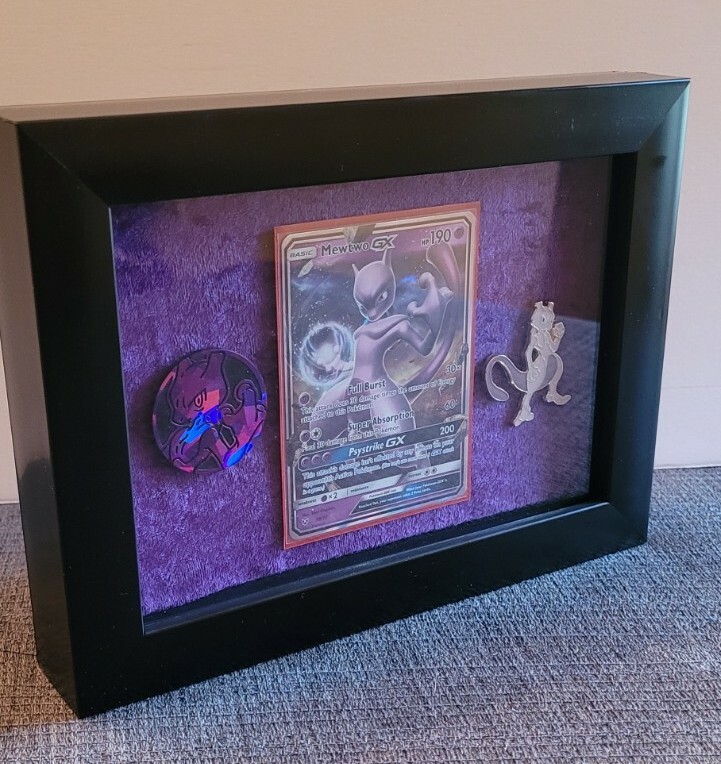 Price: 39.99 USD
Pokémon Card:
Pokemon Mewtwo Card, Pin & Coin Framed Display (5″x7″)
Pokemon Mewtwo Card, Pin & Coin Framed Display (5″x7″).
This is a hand-crafted display featuring the original bad guy of the Pokemon franchise, Mewtwo!
The card, pin and coin are affixed to a velvety purple cloth-wrapped back board and housed inside a black 5×7 inch shadowbox-style frame, to give the piece some depth and protect the items. Frame is approx. 1.25″ deep, so it can stand on it's own, or be hung on a wall using the built-in frame loops (hanging hooks not included).
Even better, the card resides in a sleeve within the frame, so if you ever want to remove it, you can, and it will be perfectly safe and in pristine condition… only the sleeve is attached to the backing! The card is a Near Mint Mewtwo GX from the Shining Legends set. The plastic, purple cracked holo coin and enameled metal pin were chosen to compliment the card and mimic Mewtwo's iconic pose!
This is a one-of-a-kind item, perfect for collectors of the Psychic Pokemon looking for a beautiful display piece they'd be proud to have on any wall or shelf.