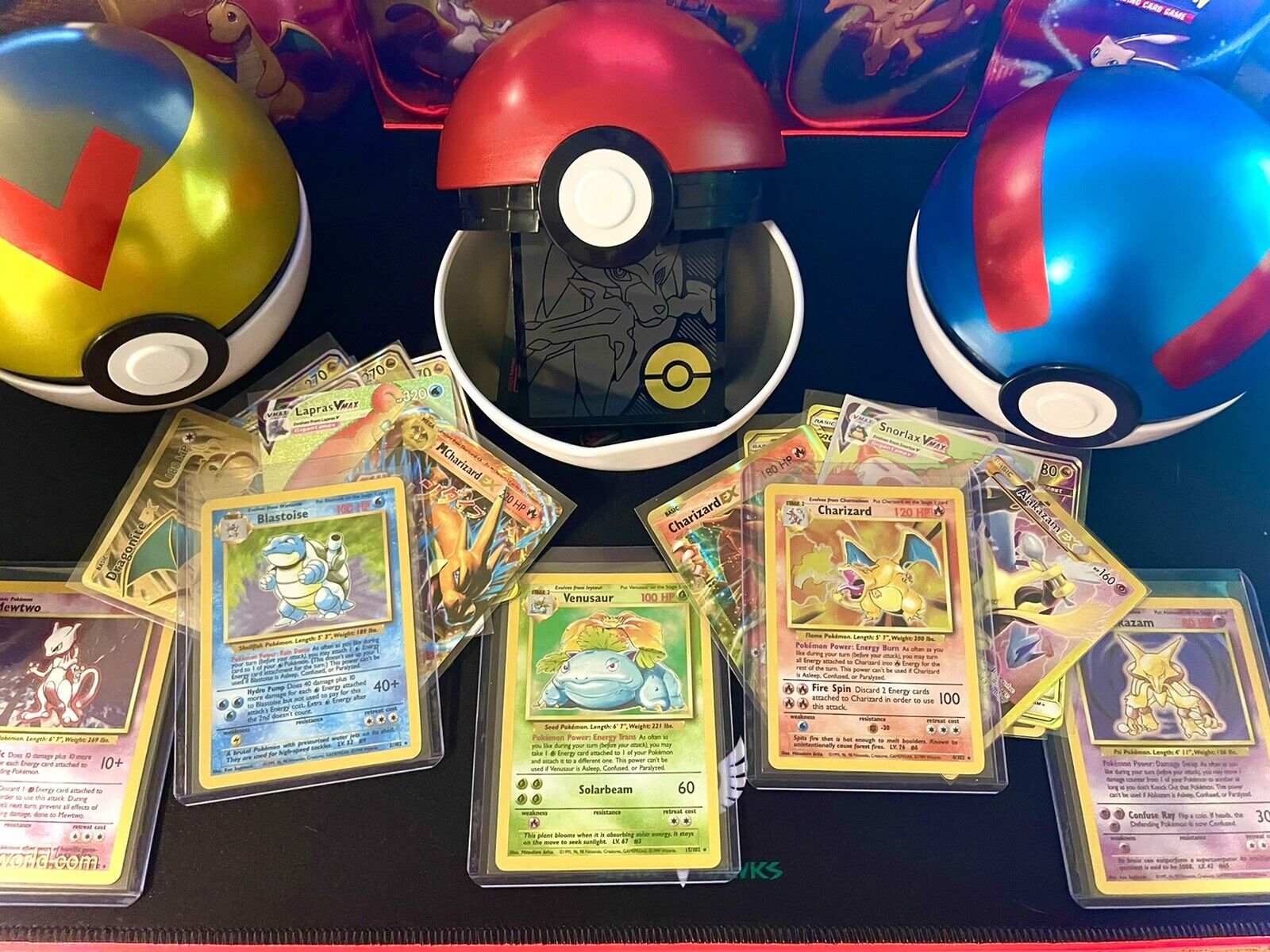 Price: 25.00 USD
Pokémon Card:
Pokemon Mystery Tin – Base Set Charizard God Pack Chance + Booster Pack and More
Pokemon Mystery Tin – Charizard Vintage Base Set Chance and others + Sealed Booster Pack.
Mystery Poke Ball tin includes:
* 1 Sealed Booster Pack (Random Booster Pack from last 6 years)
* Mystery Pack – 15 cards with at least 6 Rares + Chance for Vintage! (Explained/Odds Below)
* 1 Pokémon Coin
* 5 Pokémon Card Sleeves
____________________________
Here we have a batch of 200 mystery tins. All the cards in the photos are in these packs that I opened and kept in a binder since I was a kid. Base Set Charizard and Blastoise are BOTH God packs meaning all cards in that mystery pack are Ultra Rare or better (first photo shows some of the cards in the god packs). Highest rated mystery Pokémon products on Marketplace (4.9 Stars on 398 Reviews). If you any of the big 5 please reach out I like to hear about it!!
____________________________
Each 15 card mystery pack has 7 common/uncommons (2014-2021) and the rest are reverse Holos, Rares, and Ultra Rares. Below are the odds of the top card in your mystery pack:
2/200 (1%) – God Pack. Base Set Holo Charizard or Blastoise. All 15 cards in the pack are Ultra Rares or Better! (Sneak peak of what's in it in the photo)
25/200 (12% Chance) to get a Vintage Holo. Photo 2 shows off 15 of them.
40/200 (20% Chance) to get a Full Art, Shining, Rainbow, or Better. Photo 3 are some of the cards.
100/200 (50% Chance) to get an Ultra Rare V, GX, or EX
** All packs also have 1-2 Celebrations Ultra/Secret Rares
_____________________________
These were pre made for fairness so please let me know if you pull vintage or any top cards from the photos. I love to hear your feedback of what you got! 4.9 Stars with over 330+ reviews on Marketplace for mystery tins, so buy with confidence.
Update 2/2: 90 Left with both God Packs appearing in play. Good Luck!
**Multiples automatically get freebies. Bigger the order the more I put in as a thank you. Promo cards, Sealed Promo Packs, Japanese Cards/Packs, and more. If you purchase 5 or more send offer at $20 each and I will accept!