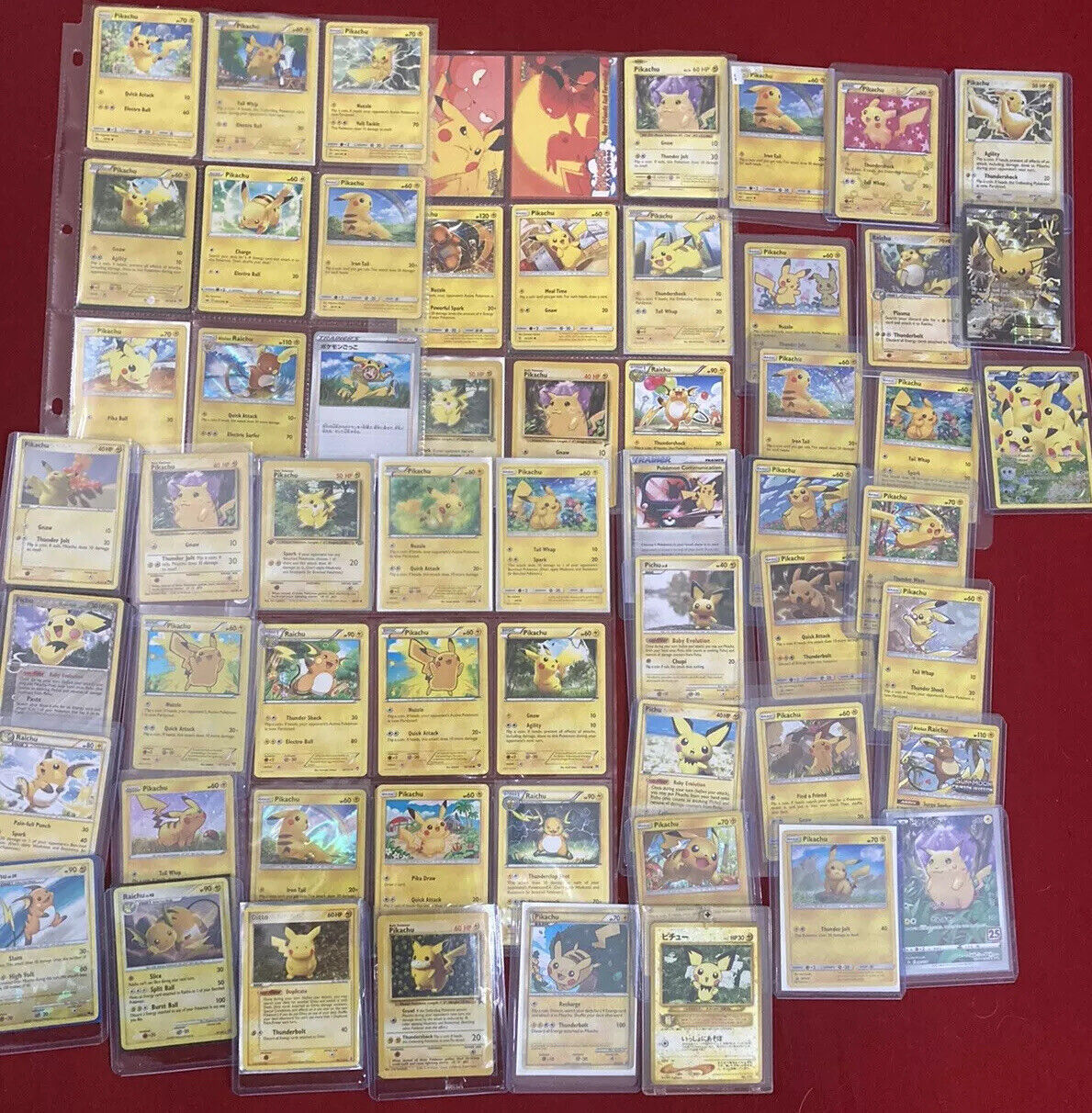 Price: 22.49 USD
Pokémon Card:
Pokémon Pikachu Card Lot! 7 Cards Randomly Picked, Sliding Price Scale HP-NM
Firstly, if you're a broke parent just trying to reward a good kid, let me know in the notes.
Anyways, I am putting together bundles at varying price ranges for all types of people from the Pikachu collection I have. I have other characters also, and some unique auctions.
Prices are on a sliding scale, and I make sure I give as much value as possible based on what a person can afford.
If you want more vintage types or more promo types, I'll give you as many as your price point allows, just write in the sales note like:
"Please give more vintage cards and Holos, I have most of the promos"
or something like
"I need newer commons, ultra Rares and promos as I have most vintage types."
I'll ask if you want a refund if I don't think I'll give you a good value, unless you let me know that it's ok to send what I can if I can't fulfill your unique requests.
For those who want near mint condition cards that are very valuable you can pay a little more and let me know about your requirements so that I will exclude anything less than LP-NM, and one should expect the price for a bundle to be around or a little less than the cost of the highest priced card or card(s) while receiving the remainder of the bundle for less than you'd pay elsewhere, or possibly free, if you're nice.
If one of the more expensive cards shown is what you are eyeing, I don't want you to think that you will get it for the price I set for a standard bundle. You'll have to ask me how much cost to guarantee that card. I don't want people to think this is gambling.
If you want to mix different characters that I sell under different listings I don't mind throwing in free cards or blending something together as long as it's not too difficult.
I like to make things affordable and easy for me to pick so that I don't have to deal with too many messages requiring a specific answers.
I am able to give more to people who like a variety of characters.
If you are easy-going and trust the feedback the other people leave behind you can get a really good value.
I encourage you to buy the single cards that you want elsewhere if you are on the picky side.
I don't need to sell all of my cards so I would probably ask for more money if somebody were to ask how much for everything, as opposed to less.
3 orders is about all I want to do for one character per purchase so that I don't run out of quality items and upset people, but if you like other characters, that makes it super easy to be generous and a larger order would get you a better deal.
The cards will come in varying conditions, so if you are very picky about the condition, there might be less of certain types of cards available or they might be unavailable, but if you are not picky about the condition, I will be able to give you more cards that I'm willing to give for free on top of what you pay for in your order. Just let me know if you only collect near mint cards or whatever.
I don't have every card that I own listed, and I don't offer them to everyone as it would take forever to go back and forth with customers who haven't gotten anything before. But if you just want good stuff and don't know who to trust, I have good stuff for you.
End of message
————————————-///-/////————-:://—-/::
Thanks for visiting The Pokemon Stop! 
I specialize in selling bundled character lots and helping people build sets of specific generations. 
All bundles will be in at least lightly played (LP) condition without creases. Bundles feature stock photos, and these listings are for people that simply want a bundle of non-specific character cards for a gift, or to start an epic character collection for cheap while scoring an obscure card or two at a good price.
I don't really customize bundles with a lot of specificity, but if you buy a character bundle and see another character available that you also like, you can ask me to include some of them, or I might possibly have other unlisted characters available, but usually not enough to make a complete character bundle.
Cards shipped with eBay Standard Envelope will be backed with thin cardboard and come in card saver or top loader.  Inexpensive character bundles will come grouped in a binder page with cardboard backing or in a stay flat.
All singles will be shipped with a sleeve and top loader.
Bundles of vintage cards come in a team bag and ship first class with a bubble mailer and cardboard backing if appropriate.
Condition Key:
Near Mint (NM) – Virtually blemish free, might have whitening on an edge or corner, but should be unscathed for the most part.
Light Play (LP) – Free from creases, might have a few areas of whitening or even a couple thin lines or faint scuffs.
Moderate Play (MP) – Might have a wrinkle or two on the foil, but not more than a quarter inch. Card might have slight fading or discoloration or an area of some moisture damage, but the card is still in tact and not heavily played.  A lot of the vintage cards will fall between LP and MP.
Heavy Play (HP) – Has deep lines and scuffs, part of the paint chipped, but card is still in tact.
Damaged (Dmg) – Anything worse than HP.
Return shipping is free and I have a no questions asked return policy.  Just hit the return link and send the item back.