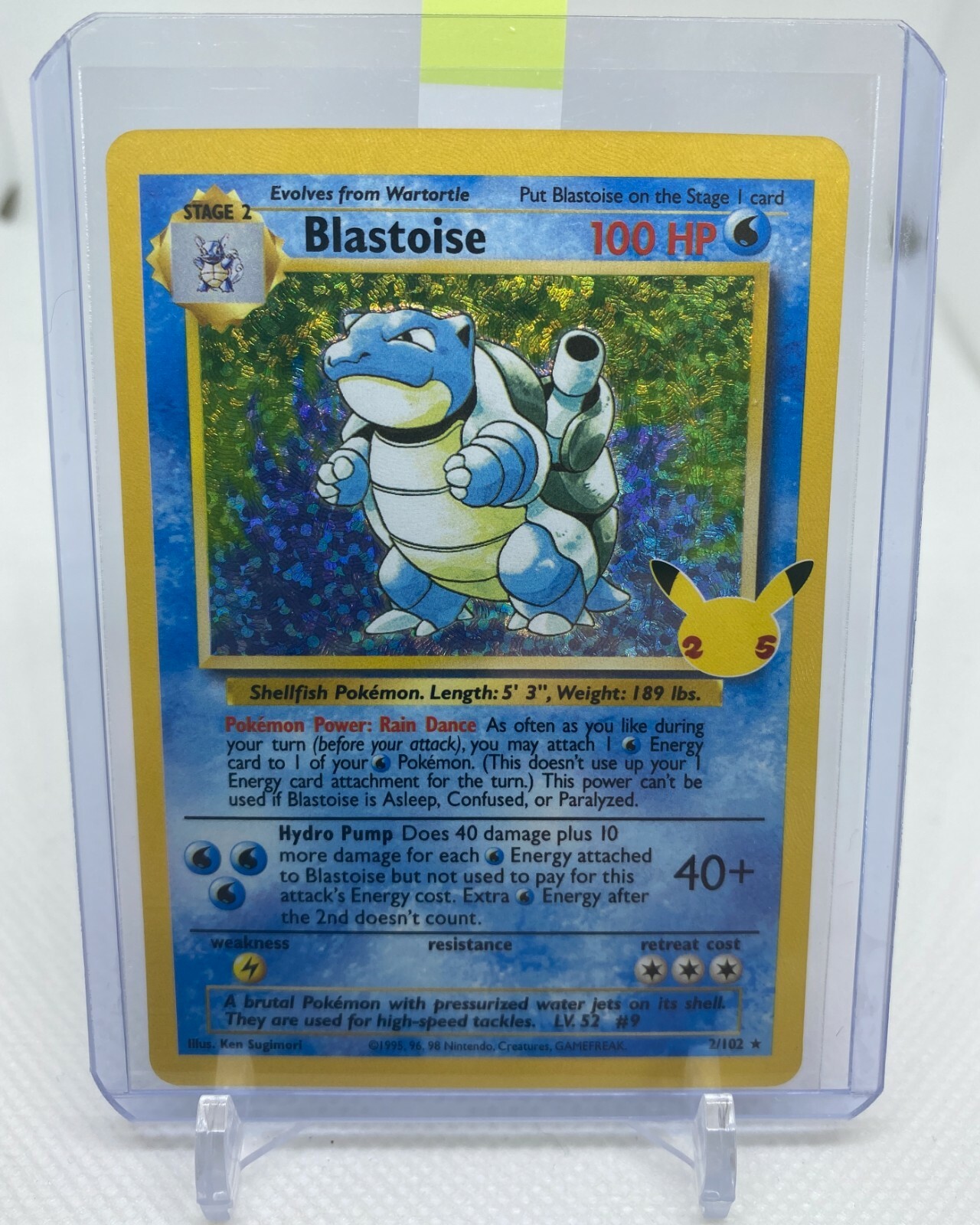 Price: 16.00 USD
Pokémon Card:
Pokémon TCG Celebrations: Classic Collection Blastoise 2/102 Holo Rare
Brand new Pokémon Celebrations Blastoise Card 2/102 from 25th Year Anniversary set/series.
All my cards are 100% authentic. I have a no refund/exchanges policy.
Please message me if you have any questions. Happy to send additional photos upon request 
IF YOU CHOOSE THE eBAY STANDARD ENVELOPE SHIPPING SERVICE, USPS WON'T ALLOW THE USAGE OF CARDBOARD TO PROVIDE ADDITIONAL PROTECTION FOR THE CARD. HOWEVER, THE CARD WILL BE IN A TOPLOADER INSIDE A BUBBLE-WRAPPED ENVELOPE.   
How Cards Are Handled
My hands are always washed and dried before I open a card pack. Corners are never touched. Cards are immediately sleeved.
How Cards Are Stored
Cards are stored inside a BCW 3200 Collectible Card Bin or Vault X Premium Exo-Tec Zip Binder.
How Cards Are Shipped (Does Not Apply to eBay Standard Envelope Shipping Service) 
The card is placed inside a penny sleeve, which is inserted into an Ultra Pro toploader and sealed by a BCW resealable graded card sleeve.
The sealed card will have cardboard placed on both sides and taped to it for additional protection support.
Finally, the card will be shipped inside a 4×8 inch Kraft bubble wrapped mailer envelope.