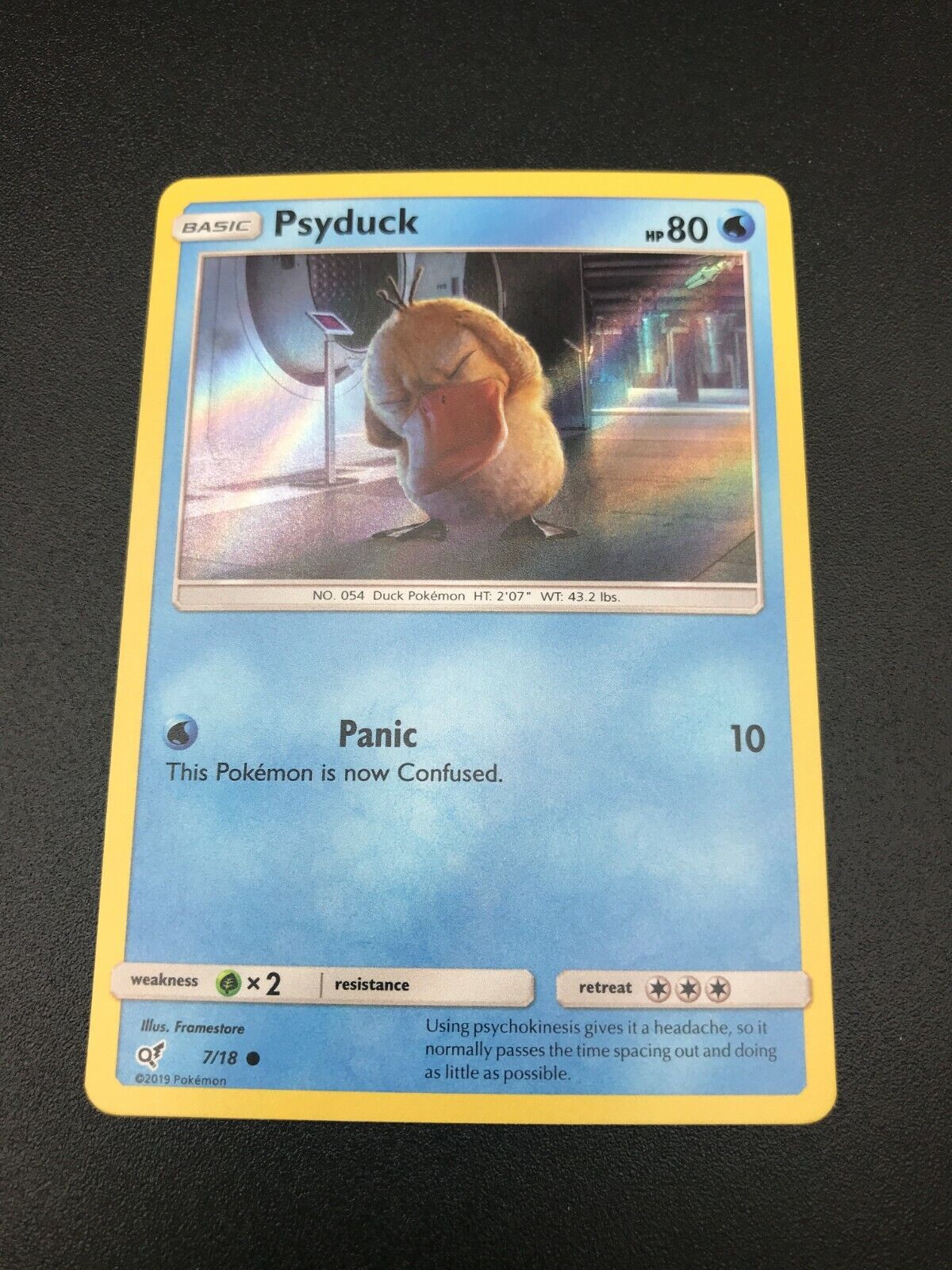 Price: 3.72 USD
Pokémon Card:
Psyduck 7/18 HOLO Pokemon Detective Pikachu Card TCG NM 2019
       ALL MY ITEMS ARE 100% REAL AND AUTHENTIC!
 If there are more than 1 copy of an ungraded card sold from me
 then, it may not be exactly 100% the same as the picture but will still be in listed condition. (NM=NM+)                 
                          Shipping
Yes, I ship worldwide.
Yes, I do offer combined shipping.
Handling time is 1-3 Business days. Does not include weekends and holidays
Most items are shipped through Canada Post 
If anything goes wrong, make sure you contact me and give me at least 24 hours to respond.
*Note estimated shipping times are created by ebay, not me. Generally it will arrive around that time.
If an item does not arrive 2 weeks after the estimated time then please contact me.
Orders outside of Canada and US take a while longer to arrive.
                               Shipping Prices
TCG singles rates (All rates In CAD)
Canada: 
Canada Post Letter Mail: FREE.
Expedited Shipping: $9.97. Includes tracking. FREE if you spend $100+
USA ONLY:
Canada Post USA Letter-Post: FREE 
Canada Post Tracked Packet USA: $14.97 includes tracking
FREE when you spend $100+
Outside of Canada & USA:
Canada Post International Letter-Post: $2.97
Canada Post Tracked Packet – International: $29.97 includes Tracking.
Required when you spend $100+ Included when you spend $150+
                            Feedback and Service
Message me if you have any other questions.
I also buy cards in bulk so if you have a lot of cards to sell at a great price, message me.
Please leave positive feedback if you are happy with what you got.
If you are not happy with what you got, then contact me. I will also be giving feedback.
Also it would be great if you checked out the rest of my store.
I try my best to be as transparent as possible to make sure you are not disappointed.
We have sales going on every few months so make sure you follow us.
Also I sometimes put in offers for people who put items on the watch list.
Card Conditions: (Based off PSA)
Gem Mint (GM PSA 10) = A card, or that has ZERO physical visible flaws. The centering is also perfect or close to perfect.
Near Mint (NM PSA 7-10) = A Near Mint card is a card that may have a few minor imperfections such as nicks on edges or light scratches. Many times, NM cards that we have in stock are actually in better than NM condition however we mark them as NM to be conservative in our grading. This could also be in gem mint but I just did not list it at that.
*Note if the card is listed as NM and it looks GM and you only want to buy it if it is GM then ask me if it is GM.
Lightly Played (LP PSA 5-6) = A card in this condition has several imperfections such as nicks, minor scuffing, edge wear and/or light scratches.
Moderately Played (MP PSA 3-4) = A card in this condition has noticeable play wear including edge wear, nicks, scratches, and/or scuffs.
Heavy Played (HP PSA 1-3) = A Heavy Played card is damaged in a way that could make it unplayable in tournaments. This damage may include heavy wear, creases, dents, scratches, bends, scuffs, inking, water damage and/or other types of damage.
Damaged (DMG PSA 1) = A Damaged card is damaged in a way that most likely is unplayable in tournaments. This damage may include heavy wear, creases, dents, scratches, bends, scuffs, inking, water damage and/or other types of damage