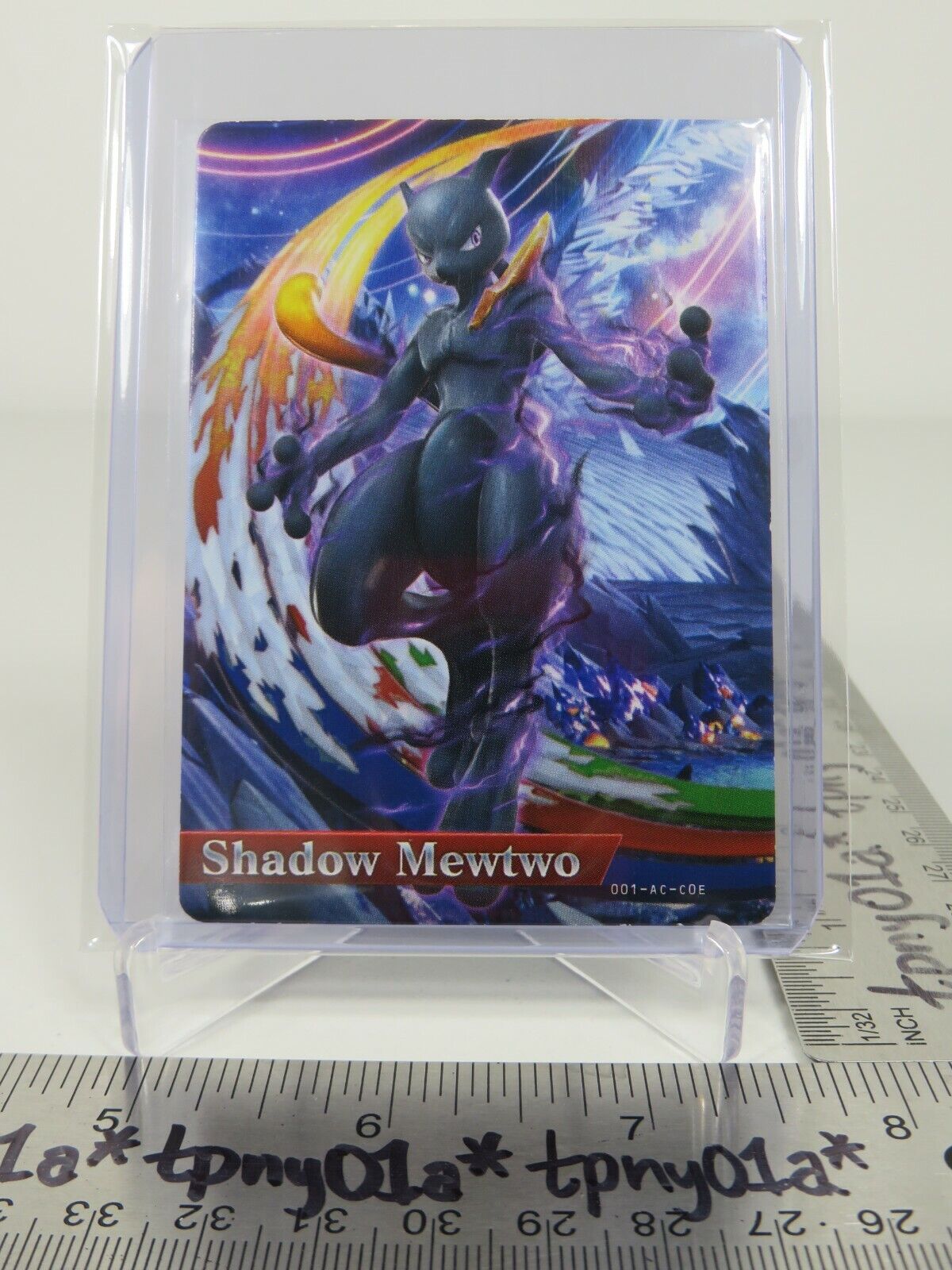 Price: 60.00 USD
Pokémon Card:
US SHADOW MEWTWO AUTHENTIC Nintendo Pokemon Pokkén Tournament Amiibo PROMO Card
This listing is for the 1 SHADOW MEWTWO Amiibo CARD pictured.  *LIMITED EDITION 2016 PROMO CARD*

REAL TESTED AUTHENTIC OFFICIAL NINTENDO US NA POKKEN TOURNAMENT PROMO CARD.
*This card works with Pokkén Tournament for the Nintendo Wii U in the following manner: When scanned, if you have reached a certain point, you will be able to use Shadow Mewtwo (different than the standard MewTwo) as a playable character. This is not a permanent fix (until Shadow Mewtwo is properly unlocked through regular gameplay) you will have to scan the card each time you load the game. Once you have officially unlocked Shadow Mewtwo through gameplay, any future scans of the card will result in generic amiibo "item drops" and powerups. 
**Shadow Mewtwo can't be used as a Partner Pokémon in the 'My Town' mode. 
***The Shadow Mewtwo amiibo card was bundled with the first print copy of Pokkén Tournament (Wii U) [*game not included] at release and was not included in later copies of the game. This card was not available for purchase outside the game via retail channels.
****The Shadow Mewtwo card does not work as a Mewtwo amiibo in other games- such as Super Smash Bros. Ultimate.  This card works as a generic amiibo card for item drops with The Legend of Zelda Breath of the Wild as well as some other games (but not all) that support amiibo cards. 
This item qualifies for an order discount: Save $5 per 3 items. 
All items must be added to your cart and purchased together in a single transaction in order to activate the discount.
Terms and Conditions of Sale are as follows:
(aka- My Promises to buyers and my expectations of buyers)
The following is in all of my listings. Any major differences between listings will be in purple.
Buyers should read my entire description and review ALL pictures before bidding.
For ALL items: More pictures are available BEFORE purchase by message request.
I am an honest seller and I want my customers to know exactly what they are bidding on.
This policy is to protect both the buyer and the seller.
If you have any questions, comments, or concerns feel free to send me a message and I will respond ASAP.
 Item Condition:
A potential bidder should review the pictures BEFORE placing a bid in order to gauge and review the condition of the item.
The pictures in the listing are of the EXACT item you will receive. (What you see is what you get!)

If you would like to see additional pictures

 

BEFORE

 

the listing ends so you can bid with extra confidence, just send me a message and I will send more pictures ASAP.

Card

 was tested and confirmed working properly with 

Pokken Tournament

.
This amiibo is ready for use- there is no registered owner, nickname, or save data saved to the 

card

.

Item is listed as "Used" because I have personally handled and scanned each one for testing and listing purposes. 

I do not work for VGA or PSA so I will not rate the condition of the

 

card

 as "Mint", "Near Mint", or whatever other grading label is used for cards. 
This 

amiibo CARD

 has factory and cosmetic imperfections as pictured.  A potential bidder should review the pictures prior to placing a bid in order to gauge and review the condition of the item as pictured. 
*

Card is in a soft ("penny") sleeve (folded over at the bottom to keep extra debris out) as well as a standard rigid hard plastic top loader.

The card can stay in the top loader and still be scanned for Nintendo Switch or the 3DS amiibo reader (neither is included).

If pictured: *THE RULERS, DISPLAY STAND, & GAME, and NINTENDO SWITCH ARE NOT INCLUDED*
A potential buyer should review all pictures to make sure the 

card

 is in an acceptable condition. 
COMBINED Shipping Info: 
Most items have been updated to have "Free" USPS First Class Package shipping with tracking.

A Combined Shipping order discount is available for many items if shown in the listing.

This item qualifies for an order discount: Save $5 per 3 items. 

All items must be added to your cart and purchased together in a single transaction in order to activate the discount.
 General Shipping Info:
eBay's calculated ESTIMATED DELIVERY DATE IS AN ESTIMATE.

 I cannot guarantee a delivery date because I do not personally deliver these items… I can only guarantee the date I will get the items to the post office. Once the post office has the package- delivery is quite literally out of my hands…. 
As quoted from USPS.com : "ALERT: USPS IS EXPERIENCING UNPRECEDENTED VOLUME INCREASES AND LIMITED EMPLOYEE AVAILABILITY DUE TO THE IMPACTS OF COV*D-19. WE APPRECIATE YOUR PATIENCE."  

I watch all my incoming and outgoing packages with tracking and have seen many be delayed and delivered late. This is out of my control, but if whenever I notice a package that has been in transit for too long, I will fill out the online request for a "search request" and then a "missing mail request" if a significant time has passed without an update. Thus far- all packages that I have sent that ended up delayed were found and reached their target.

The default shipping method is Standard Shipping (USPS First Class Package

®

) if the item weighs less than 1 pound and Priority if it exceeds First Class weight requirements.

Additional shipping methods are usually available at checkout including: 

Expedited Shipping: USPS Priority Mail

®

.

 

I will not ship with snail mail (stamps), Media Mail or Parcel Select because in my experience they are very slow and unreliable.

I ship with USPS only to the US only- Excluding: 

Alaska/Hawaii, US Protectorates, APO/FPO, Africa, Asia, Central America and Caribbean, Europe, Middle East, Greenland, Mexico, Canada, Saint Pierre and Miquelon, Bermuda, Oceania, Southeast Asia, South America, PO Box, etc.
I will pack and ship as secure as possible to safeguard against damages en-route.
I will pack the item in a box and use additional bubble-wrap or other packing supplies as needed so everything is secure.
If you have any specific packing desires send me a message 

BEFORE

 bidding so I can confirm or deny your request.
I do not accept returns after I have shipped an item. I pack each item very securely so there should be no valid reason for a buyer to want to return an item. 
I have shipped over 3,000 amiibo figures and cards and none of them have arrived damaged. 🙂
 Tracking:
I will print the shipping labels through eBay so the tracking number should be automatically updated as soon as I pay for the shipping label.
Tracking information will be available through eBay and USPS's website or Informed Delivery.
Tracking information can take up to (or even sometimes exceed) 24 hours to update after the USPS's receipt of item.
General Listing Information:
Each listing shows the exact item you will receive unless I explicitly state a "stock photo" is being used. 
Every listing is different unless otherwise stated. 
It is the buyer's responsibility to make sure their address is correct before checkout. I can only ship to the address attached to the order and I am not obligated to cancel an order due to an incorrect address. 
It is also the buyer's responsibility to request additional pictures and/or information BEFORE purchase if they want me to handle the item and describe every flaw I notice. I am very clear in each listing that these items are not mint or perfect and have flaws. I do the best I can to take pictures to show these flaws, but my camera has limitations and may not be able to show flaws that are visible when the item is in hand. All bids and sales are Final. No returns or partial refunds are accepted or offered for any reason. If a return is forced, the buyer will be responsible for the original and return shipping as well as a 20% restocking fee and the item must be returned in the condition it was sent- including all packing material and the original shipping box.
I reserve the right to cancel: any suspicious bids or orders, any orders that are shipping to an address that does not match the buyer, any orders made by buyers on my blocked list using a different user name; and any orders where the buyer makes additional requests that are not fulfilled or agreed to BEFORE purchase.
I reserve the right to revise or end a listing if I notice there is an error in the listing. 
If I do not respond within 12 hours to requests to bundle, break-up, or end a listing early… that means my answer is a silent but firm "No thank you".
I will not respond to requests to do business outside of eBay.
Feedback:
I want everyone to receive positive feedback. I want to have a quick, smooth, easy transaction that everyone is happy with at the end of the day. 

Once I receive positive seller feedback, I will leave positive buyer feedback that highlights the best part of the transaction. This may include phrases such as: "Paid Instantly" "Left Feedback Very Quickly" "Great communication" "Good communication" "Smooth Transaction" "Thank You" "No issues" "A+" "etc.

Even if a buyer pays instantly, I will not leave the positive feedback they deserve for paying until the transaction is complete. I will not consider the transaction complete until I have received feedback to confirm that the item arrived in the condition pictured and the buyer is satisfied.
SELLER'S FILE/STORAGE ID-  AC-S4.5-001-SHADOW MEWTWO-TL-9/15
*The Numbers GX-XXX are not associated with Nintendo or Amiibo in any way- they are simply my own inventory numbers I use to keep all items organized and ready to ship.*