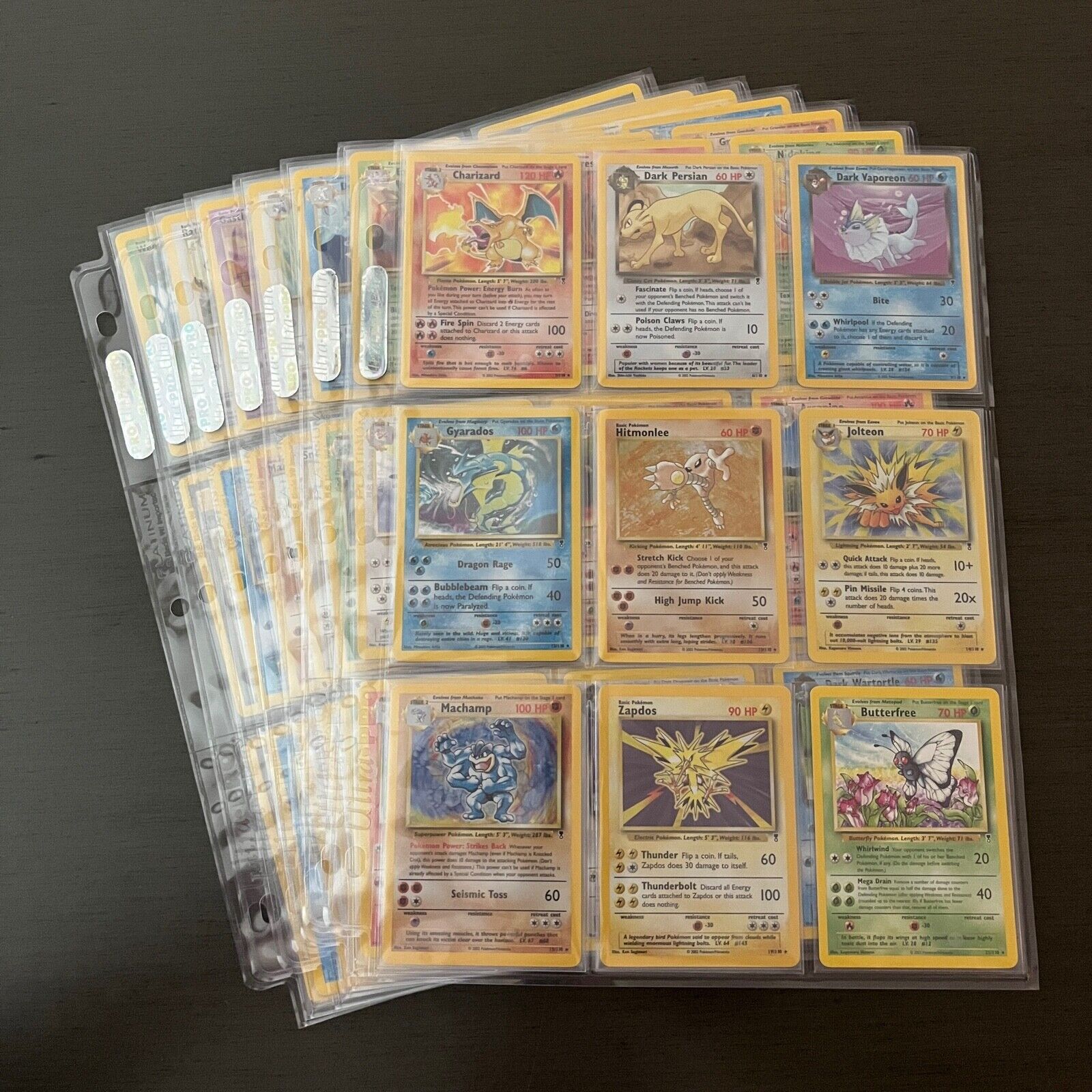 Price: 875.00 USD
Pokémon Card:
Vintage WOTC Legendary Collection Pokemon Cards Lot w/ Charizard 4/110 Holo
Additional pictures of the cards (showcasing the specific conditions) can be found at:
https://drive.google.com/drive/folders/1nX0QeLfaBYzFsGDopBLDTVMevrd8hCw3
Thank you for looking at my listing.
You will receive this exact lot of Vintage Legendary Collection Pokemon Cards. There are 8 Holo 1st Edition Cards (Including Charizard 4/110) and 8 Non Holo Rare Cards. 
CONDITION:
– The cards are in great condition. Between LP and NM. Given their age, there is some minor edging / signs of play throughout. The holos are in really good condition, with most of them being closer to NM. I have provided a LOT of photos at the link provided so that you can get a complete view at the condition of the cards. 
SHIPPING:
Shipping is paid by the buyer and depending on the final sale price, a signature upon delivery may be required. The cards will be shipped with either USPS or UPS. Cards will be packaged safely and securely to insure they stay in the condition shown. The boxes and the set dividers are included. 
INTERNATIONAL SHIPPING is available. All shipping fees and import charges are the buyers responsibility. International shippers, please reach out for an ACCURATE price. It will be at least 50% cheaper than what eBay shows you; possibly lower depending on location.
PAYMENT:
Payment is required immediately. If your offer is accepted, payment is required within 30 minutes of the offer being accepted. If the payment isn't recieved in that time, the listing will be cancelled and re-listed. No exceptions.
RETURNS:
Given the nature of Pokemon Trading Cards, and the ability for people to switch out cards with damaged / fake cards, there is a strict NO RETURNS policy on all of my Trading Card listings. SCAMMERS BEWARE… My cards are package with supporting video footage. The cards pictured will be packaged throughout a recording to verify that the cards pictures are indeed the cards shipped. 
QUESTIONS:
If you have any questions, please feel free to reach out. I am open to REASONABLE offers but Low-ballers, Time wasters and Gas Lighters will be ignored and, if it is necessary, reported. 
Once again, additional pictures can be found at:
https://drive.google.com/drive/folders/1nX0QeLfaBYzFsGDopBLDTVMevrd8hCw3